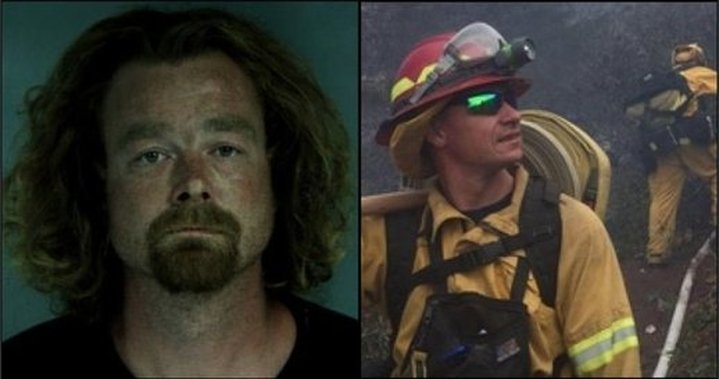 The wife of murder suspect Jon Goldberg testified today in his defense, saying he was not angry but heartbroken when she confessed to having sex with his friend Timothy Smith.

Rachel Goldberg, smiling at her husband as she took the witness stand, described Jon Goldberg as a devoted family man who had never abused her. In fact, she testified, she had physically abused him when she was drunk.
"He was very loving," Rachel testified under questioning by Deputy Public Defender Casey Russo. "He never went a day without making sure we had everything we needed … He worked every day. And if he wasn't working he was down at the (Bridgeville) Community Center or helping me at the school."
She described him as a wonderful father to their young son David, always at her side to help her.
Jon Goldberg, 37, is accused of shooting the 42-year-old Smith to death on Sept. 26, 2016, a few hours after he found out about Smith's relationship with his wife.
Rachel Goldberg, in often-tearful testimony, said she became acquainted with Smith because they both worked at Bridgeville Elementary School. Even after Smith left his job at the school, he would stop by. He told Rachel he was there "to make sure everything was going OK."
They started to become close, she said, talking together and texting. Then it was "a kiss every now and again, then hugging and showing affection."
"We ended up being together (having sex) one time," Rachel testified.
At some point she sent Smith "explicit pictures of my body." And he sent her "a picture of his private area."
It was those pictures that Smith's wife Jessica Springer found on his cellphone. Springer texted Rachel to let her know what she'd seen, warning her she'd better tell her husband or she would drive to their place and tell him herself. She also sent a couple of the photos she'd found.
"I did not want to tell him at first," Rachel said, her voice breaking. "He asked me if the pictures were true and I said yes."
At first she just admitted she and Tim Smith "had gotten close over the last couple of months."
Later, she took him out to the garden and confessed the affair.
"He was crying, sobbing uncontrollably," Rachel said. "He was very sad."
She said they talked "vaguely" about divorce, and "he wanted to take David."
When Jon Goldberg left for Fortuna to buy a new cellphone, Rachel called Frieda Smith, a co-worker at Bridgeville School, to come and pick her up. She had gathered some personal belongings for herself and her son.
"I knew (Jon) needed some time to think about what I had just told him," Rachel testified.
"I just asked Frieda to take me to Fortuna so I could get me a hotel room and wait for Jon to cool off," she said.
Rachel Goldberg denied telling Frieda Smith, as Smith testified, that Goldberg was furious and had fired gunshots around her. She couldn't remember a call from Goldberg, one that Smith overheard, in which he accused Rachel of kidnapping their son and said "It's not OK for another man to put his dick in my wife."
As to the bruises that Frieda Smith saw on Rachel's arms and legs, Rachel maintained she was never abused. Smith testified that Rachel told her she and Jon had been fighting.
And when Rachel was trying to check into the hotel in Fortuna, she received a text from her mother advising her to tell the hotel clerk she was fleeing from domestic violence.
Today Rachel took the blame for arguments between her and Goldberg, saying she had a drinking problem at the time. Asked whether she had physically abused her husband, she said she had.
If one assumes Frieda Smith came to court and made up a story, one must also take into account that Rachel told Fortuna police her husband was "very angry."
The morning of the shooting, Rachel testified, Tim Smith called her from a pay phone to tell her his wife had kicked him out. She also got a couple of voicemail messages from Smith.
Russo contends the shooting was a crime of passion, saying Goldberg didn't expect to find Smith home. And when he arrived, Russo says, Smith reached for a gun in his truck and then rushed at Goldberg.
Today the jury saw a 10-minute video, filmed by District Attorney's Investigator Gary Cooper, of the drive between Goldberg's house and state Highway 36. The road is so rough the police car was bouncing and rocking, and it seemed like a very long 10 minutes.
Deputy District Attorney Luke Bernthal may have been pointing out that Goldberg had quite a long time to cool off and reflect on his plans. After reaching Highway 36, he had to drive more than 35 miles to Smith's house.
Rachel didn't know Smith had been shot when she asked Frieda Smith drive her to Smith's home on Rohnerville Road. The road was blocked by police cars and an ambulance.
Shortly afterward, Rachel learned Smith had been shot dead and her husband was the suspect. Frieda Smith drove her to the Fortuna Police Department.
"I just remember being very upset and I couldn't control my emotions," Rachel said. "I was physically sick, vomiting."
She said the police kept trying to give her water, but she'd take a sip and it would come back up.
It's alleged Goldberg shot Smith with a .357-caliber revolver. Today Rachel first testified that her husband owned no guns. Then she admitted he had a shotgun and a small silver gun, but they belonged to his grandfather.
Asked whether she had ever seen her husband with a gun on his hip, she said no.
One of the pieces of evidence introduced during the trial was a photo, taken by Rachel, of her husband with a holstered gun strapped to his hip.
Rachel said she had seen guns in cases in Tim Smith's pickup truck. Bernthal had just began cross-examining Rachel when Judge Graham Cribbs adjourned the trial for the day. She is expected to return to the stand tomorrow morning.
PREVIOUSLY: