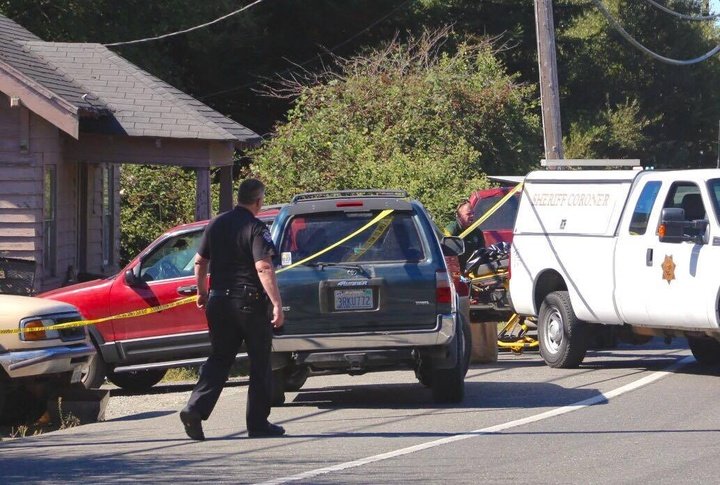 A text message from Rachel Goldberg's mother indicates Rachel may have told her she'd been abused by Jon Goldberg, who is accused of killing Rachel's boyfriend Timothy Smith after learning about their affair.

Rachel Goldberg had fled the Bridgeville-area home she shared with Jon Goldberg and their son, asking a friend to take her to Fortuna. She had no transportation because her husband had taken the keys to the van she drove for Bridgeville Elementary School.
Rachel had her suitcases packed and was planning to leave town, but first she was going to check into a Fortuna motel.
"Make it clear to the motel clerk clerk that you are fleeing from domestic violence and they are not to give your info to anyone," reads the text from "Mom."
"Thanks," Rachel replies. "Now I have the school wanting the van back by tonight."
"Oh," her mother said. "Well, tell them Jon has the keys and won't let you have them."
That testimony came out this morning during Deputy District Attorney Luke Bernthal's cross-examination of David Holland, an expert witness called by Deputy Public Defender Casey Russo. Holland, a forensic computer expert who works for Facebook, was there to discuss the many cellphone communications on Sept. 26, 2016, the day Jon Goldberg allegedly killed Tim Smith outside Smith's home on Rohnerville Road.
As has been discussed in earlier testimony, the first text was at 2:10 a.m. from Smith's wife Jessica Springer, who had just found nude pictures of Rachel Goldberg on her husband's cellphone. Springer texted Rachel that "I have the pictures you and Tim have been sending each other. I have his phone."
An hour later, Springer texted Rachael Goldberg 20 photos. Some showed male genitalia. Others showed Rachel nude or partially nude. At 6:20 a.m., Springer again texted Rachel Goldberg that she'd found the incriminating images.
Then, Rachel called Springer's phone and she didn't pick up.
For awhile it's quite confusing, because Springer is using her husband's phone and Jon Goldberg is using his wife's phone. Jon Goldberg tells Springer he's coming to see her.
She responds that he doesn't have to come all the way into Fortuna because she kicked Smith out and doesn't know whether he will be home. She adds that if Goldberg wants to punch her husband in the face, "I'll help you find him."
Springer apologized to Jon Goldberg, saying he was a good person and she was "so sorry and so embarrassed" about what happened
The texts between Smith and his wife are clear. She left their house and he is begging her to please come back.
"Come home," Smith said. "Where are you? All right, I'm leaving. So sorry for the mess I put you in."
Rachel, meanwhile, was with her friend Frieda Smith headed toward Fortuna. Frieda Smith testified earlier in the trial that Rachel was very worried about Tim Smith and frantic to speak with him. She was planning to leave town so she thought she'd never get the chance again.
At 12:03 p.m. Rachel called Tim Smith's phone and he didn't pick up. Thirty-seven minutes later Jessica Springer called 911 to report her husband had just been shot.
Russo said during his opening statement to the jury that Goldberg wasn't expecting to find Smith home. When he cautiously approached Smith (with a loaded gun), Smith reportedly reached for a gun in his truck and then rushed at Goldberg.
Today defense witness William Crider, who was supervising a Pacific Gas & Electric Co. crew near Smith's home, testified that after the shooting the driver's-side door of Smith's truck was open.
Russo also called a Fortuna police lieutenant to the stand today, in an effort to discredit testimony earlier this week from prosecution witness Timothy Roscoe. Roscoe said he was involved in a "road-rage" incident with Goldberg, and was driving by Smith's home when he saw Goldberg "sprinting" toward the house.
Russo asked Fortuna police Lt. Matthew Eberhardt about the FPD's investigation and arrest of Roscoe in 2014. Roscoe was suspected of stalking and threatening another man.
Pressed about whether he considered Roscoe an untruthful person, Eberhardt was cautious. He finally acknowledged he thought Roscoe was dishonest about claims he made in order to get a restraining order against the other man.
Russo also asked Eberhardt about a key issue in the case: Fortuna police didn't search the cab of Smith's truck.
"I did look in the back of the truck … the open bed of the truck," the officer said, but the truck bed contained nothing of interest.
Although Russo began calling defense witnesses today, Bernthal hasn't quite finished with his side of the case. Two or three more defense witnesses were expected to testify this afternoon, and on Monday Bernthal plans to call his final witnesses.
###
PREVIOUSLY: