EARLIER:
###
[Note: This story contains graphic descriptions of abuse and molestation.]
Former Correctional Officer Cory Jordan Fisher Sr. was held to answer today on a total of 12 charges of sexually assaulting three young boys and three jail inmates.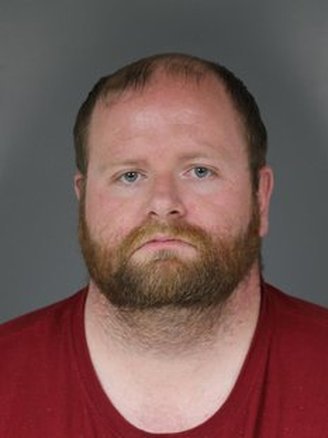 Judge Christopher Wilson ruled there was enough evidence for Fisher, 31, to stand trial on allegations, including sodomy and oral copulation, of two John Does who were under the age of 14 and one boy who Fisher allegedly fondled when the child was 10.
He also was held to answer for forcing an inmate to orally copulate him while holding a Taser to his head, and for grabbing the penises of two other inmates.
In addition, Fisher will stand trial on a charge of continuous sexual abuse of a child.
Wilson also held Fisher to answer for beating up and breaking the nose of one of the children, though he said he had "some hesitation as to who the aggressor was."
Wilson declined to hold Fisher to answer on a "Peeping Tom" charge related to peering at inmates in the shower through a pair of home-made binoculars.
Deputy Conflict Counsel David Lee, representing Fisher, had argued inmates have no right to privacy.
"That goes away the minute they spread their buttocks to be examined," Lee said.
The defense attorney also said the origins of the child-molestation case were "so sketchy," asserting that the person who reported Fisher to the Eureka Police Department seemed more concerned about a civil action against Fisher than in reporting children had been molested. The person asked the three boys to write statements about what Fisher had done to them, then gave their statements to a civil attorney before going to the EPD.
As to the inmates, Lee established during cross-examination of sheriff's Investigator Jennifer Turner that all three complaining prisoners were aware Fisher had been jailed on sex charges. In addition, all three had been in contact with a civil attorney. The inmates have filed complaints seeking damages from the county.
Today, the second day of Fisher's preliminary hearing, Lee questioned Turner about video cameras in the jail, about other officers who could have seen the alleged assaults, and about records that would indicate when and where Fisher was working on various days.
In making his ruling, Wilson noted there were "holes" in the evidence presented about the jail incidents, and other correctional officers should be questioned.
Turner spoke to one inmate who said he'd been in custody for a total of 17 years and had been searched by "thousands" of guards. But he had never experienced a search like the ones Fisher conducted. He described it as "more of a rub-down than a pat-down," Turner said.
And on one occasion, the inmate told Turner, Fisher grabbed his penis and yanked on it, "like milking a cow."
Asked why he didn't report the incident at the time, the inmate became "very emotional," Turner recalled.
"He felt that he wouldn't be taken seriously and it would be swept under the rug and no-one would believe it," the investigator said.
In earlier testimony from EPD Detective Ron Harpham, Deputy District Attorney Stacey Eads asked the detective whether one of the molested children had said Fisher threatened him to keep quiet about the abuse. Harpham said it wasn't exactly a threat.
"He was made to do a 'Pinky Swear,' that he wouldn't tell," Harpham said, "and Cory Fisher told him no-one would believe him anyway."
While Fisher listened quietly during the testimony about the children being molested, he seemed agitated at times today. On many occasions he either whispered to Lee or handed him notes.
Fisher is scheduled for arraignment on Sept. 18. A trial date could be set at that time.
PREVIOUSLY