Note: This story contains graphic descriptions of abuse and molestation.

###
Three "James Does" listed as victims of former Correctional Officer Cory Jordan Fisher Sr. are current or former inmates, including one he had known since childhood.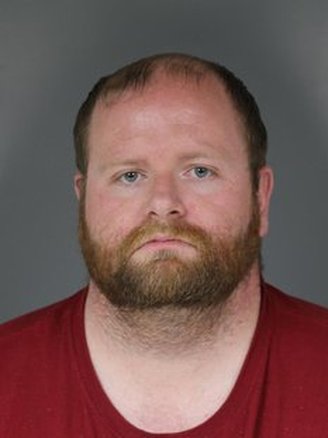 "He said he had known Cory for a very long time," sheriff's Investigator Jennifer Turner testified today. "That they had grown up, I believe, in a group home together."
James Doe II told Turner during an October 2017 interview that Fisher started touching him when he came into his cell in the morning to wake him up. It began with Fisher grabbing his leg, he reported, then his butt. Finally he woke him up one morning by grabbing his penis.
"He described being shocked," Turner said under questioning by Deputy District Attorney Stacey Eads. "He jumped up and said something like 'What the fuck?'"
Fisher allegedly responded by grabbing his Taser and saying he would call in an assault on jail staff.
Turner testified today during the second day of Fisher's preliminary hearing. The first day focused on his alleged sexual abuse of three young boys.
Turner said another inmate, housed next to James Doe II, confirmed there was a commotion in Doe II's cell and said he heard Fisher telling him to calm down or he would report an assault. Fisher apologized to the inmate later, saying he was having rough time in his life.
Doe II is one of several current or former inmates who have filed grievances against the county over the alleged sexual abuse.
In the most egregious reported incident, Fisher allegedly held his Taser to an inmate's head while forcing him to perform oral sex. That inmate, James Doe I, said Fisher unzipped his pants, pulled out his penis and said "I need you to suck on this."
When Doe I refused, Fisher reportedly put a Taser to the man's head. He complied, getting down on his knees and performing oral sex on Fisher.
Other inmates complained Fisher and another officer made binoculars consisting of two taped-together toilet paper rolls. The binoculars had a fin on top and were labeled "Shower Shark," and Fisher allegedly used them to peer at inmates in the shower. When one of them told what he was doing was not right and he should stop, "Cory only got closer," Turner said.
The alleged crimes at the jail occurred in June and August 2017, not long before Fisher resigned from his job. The Eureka Police Department had just started an investigation into allegations that he molested three boys, one of whom, John Doe I, said he was regularly assaulted from the time he was in sixth grade until he was 17. Most of the alleged molestation consisted of oral copulation, though Doe 1 said Fisher once tried to sodomize him.
EPD Detective Ron Harpham testified that Doe 1 didn't know if he was penetrated, "but it hurt a lot."
John Doe II reported countless episodes of forced oral copulation and repeated attempts at anal sex.
The youngest John Doe said Fisher molested him once, by rubbing his genitals.
The preliminary hearing is expected to continue this afternoon before Judge Christopher Wilson, who will decide whether enough evidence has been presented to warrant a trial.
PREVIOUSLY