With two or three jurors holding out for acquittal, a mistrial was declared today in the child-molestation trial of Chad Alan Smith.
Judge Christopher Wilson, after spending about 50 minutes questioning each juror privately, accepted the jury's unanimous decision that they were hopelessly deadlocked. The jury foreman told Wilson that on most counts the jury voted 10-2 in favor of conviction, and on "a couple" of counts voted 9-3 in favor of conviction.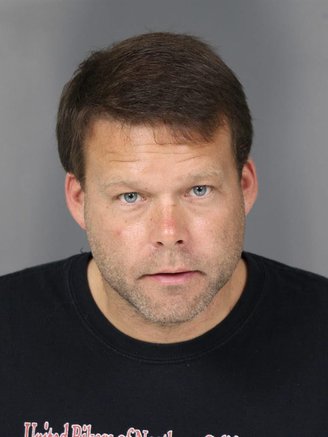 Smith's new trial was scheduled for June 24. He remains in custody.
Most jurors fled the courthouse immediately after the panel was excused. Two women who remained for a few minutes said they didn't want to answer questions.
The nine-man, three-woman jury deliberated about 11 hours before the mistrial was declared.
Yesterday nine of the 12 said the jury was hopelessly deadlocked. But because three jurors disagreed, Wilson asked them to return to deliberations today. Yesterday the split on most counts was 7-5, so some jurors changed their minds.
The jury was able to reach a decision on only three counts: Smith was found guilty of three misdemeanor charges of violating a restraining order.
The remaining 13 charges involve one count of violating a restraining order and 12 felony counts of child molestation. Two of those charges are molestation of a child 10 years or younger, with the penalty being 15 years to life.
Smith is accused of the long-term molestation of Jane Doe One, now 16, who testified she was 9 years old when their sexual relationship began. Jane Doe Two, a friend of Doe One, said Smith molested her on one occasion.
Deputy District Attorney Stacey Eads, who prosecuted Smith, said outside court she was grateful for "the time and commitment the jurors gave in this very difficult and time-consuming case."
Smith was represented by appointed attorney Andrea Sullivan, who argued the victims were lying and the police botched the investigation.
"I'm pleased that Mr. Smith avoided conviction, obviously," Sullivan said after the mistrial was declared.
Jurors heard days of graphic testimony, including Doe One's account of how Smith had sexual intercourse with her when she was 11, with his penis covered in Saran Wrap. She also said she orally copulated Smith many times, always swallowing his ejaculate because "Good girls don't spit."
Doe One, who said she thought she was in love with Smith, initially denied having any sexual relationship with him. Gradually she began to disclose details, saying there were hundreds of sex acts including sodomy. Once, she said, Smith continued sodomizing her after she begged him to stop. Afterward she saw him using a tissue to wipe blood from his penis.
Smith, 44, once owned a burger restaurant in Eureka and was a substitute teacher in Eureka and Fortuna. He has been in Humboldt County Correctional Facility since July 2017.
###
PREVIOUSLY