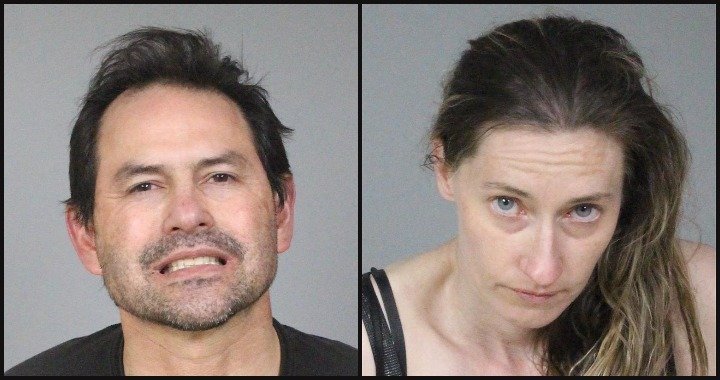 A March jury trial is scheduled for local attorney Michael Phillip Acosta and his partner Sarah Marie Carroll, who were arraigned this morning on drug-related charges filed after their Eureka home was raided in February.
Judge John Feeney set the couple's jury trial for March 22, with a trial confirmation on March 8.
Since the preliminary hearing last month the District Attorney's Office has added more counts of possession of drugs for sale. Acosta and Carroll are also charged with maintaining a place where drugs are sold or used.
The Humboldt County Drug Task Force raided Acosta and Carroll's Cedar Street home, which also doubles as Acosta's law office, on Feb. 4. Acosta, Carroll and three other people in the house had drugs in their possession.
Agents also found 17 grams of heroin, a small amount of methamphetamine and 74 "bars" containing a high dose of a drug similar to Xanax. In addition, officers seized three digital scales and a pipe containing burned drug residue.
The Drug Task Force had been watching the couple's home for months, on some days observing up to 25 people coming and going. Law enforcement had received numerous complaints about the property.
Both Acosta and Carroll are out of custody. Attorney Andrea Sullivan represents Carroll, while Acosta is defending himself.
PREVIOUSLY:
###
A trial date also was set this morning for Brandon Matthew Watson, charged with stabbing a man to death outside an Arcata bar and stabbing and seriously injuring two men behind a bar in Eureka.
Watson, 29, is accused of fatally knifing Peter "Bo" Triantos in October 2018 and attacking Brian Joseph Edwards and Antony Besselieu-Hill in February 2016.
Both incidents occurred during bar fights allegedly provoked by Watson, who reportedly walked up to the victims and bragged about being a gang member.
This morning Deputy District Attorney Roger Rees told Judge Timothy Canning that Triantos's family wants to be present in court during the trial. Rees asked that the trial be set far enough out that the public can be allowed in courtrooms. The courthouse has been closed since March because of the Covid-19 pandemic.
"The family is very concerned about their ability to be present," Rees said.
Defense attorney Andrea Sullivan said she disagrees with a long delay in the trial, as the decision to re-open the courts is not in the hands of "anybody in this room."
One jury trial, with some members of the public allowed in, was recently completed at the Veterans Hall in Eureka. But that defendant was not in jail, and the rule is that people in custody must be tried in the courthouse. All courtroom proceedings are live-streamed on YouTube.
Watson's trial, which had been set to begin Oct. 9, is now set for Nov. 30. A trial confirmation hearing is scheduled for Nov. 8.
Triantos, 26, was stabbed four times.
PREVIOUSLY:
###
In other court news, a jury has been selected for the trial of drive-by murder suspect Demetrius Coleman, facing charges that could put him in prison for life without possibility of parole.
This morning defense attorney Andrea Sullivan, in court on another murder case, said Coleman's jury was sworn in yesterday. The trial is expected to begin Monday.
Coleman, 40, is charged with murder with special circumstances in the August 2019 death of 26-year-old Johnny Mack Renfro, who was fatally shot after getting out of his car on Monument Road in Rio Dell. The special circumstance charge is firing from a vehicle.
During Coleman's preliminary hearing, Deputy District Attorney Carolyn Schaffer said the probable motive was that Coleman believed Renfro was one of three men who robbed him of marijuana.
Coleman's 23-year-old girlfriend Alma Ahumada Mendoza was initially charged with being an accessory after the killing, but Judge Timothy Canning dismissed that charge for lack of evidence.
After Renfro was shot, Coleman drove his car to a friend's house in Alton, saying he had been robbed and shot at and needed a place to leave the vehicle. The back window of the car was shattered, allegedly when Coleman fired out the window at Renfro.
The car eventually was turned over to law enforcement and was traced to Coleman's former wife. She told investigators Coleman had the vehicle in Humboldt County.
Coleman and Ahumada Mendoza were tracked down in North Dakota a few months after the killing. Coleman turned down a deal that would have put him in prison for 30 years with possibility of parole. He already has two strikes under the state's "Three Strikes and You're Out" law.
PREVIOUSLY: