Friday, May 3, 2013's Lowdown

Humboldt is no stranger to masked theatre. So this shouldn't freak you out.
This Thursday and Friday at the Arcata Playhouse, PDX theatre troupe Wonderheads — made up of Dell'Arte alum Kate Braidwood and Andrew Phoenix — return to the North Coast with their giant-headed production Loon. Wonderheads wisely promote themselves with the tagline "live action Pixar" (did you hear that, parents?) and you can see why in Loon's video trailer below.
Then again, if masks terrify you there are plenty of other options for you farther down in Friday's Lowdown.
-Andrew Goff
The Lowdown Fun Committee
Larry Likes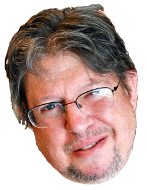 Events
Movie Showtimes
Broadway Cinema
42: 11:50, 2:45, 5:45, 8:45
BIG WEDDING: 12:05, 2:20, 4:40, 7:10, 9:30
EVIL DEAD: 4:30, 9:40
IRON MAN 3 2D: 11:45, 2:50, 5:55, 7:45, 9:00
IRON MAN 3 3D: 12:00, 1:45, 3:05, 4:50, 6:15, 8:00, 9:20
JURASSIC PARK 3D: 2:30, 5:30, 8:30
OBLIVION: 12:20, 2:10, 3:15, 5:15, 6:20, 8:15, 9:15
OLYMPUS HAS FALLEN: 1:35, 6:50
PAIN AND GAIN: 11:55, 3:00, 6:00, 9:05
PLACE BEYOND THE PINES: 2:00, 5:25, 8:35
THE CROODS 2D: 12:10, 2:40, 5:10
Garberville Theater
GI JOE: RETALIATION: 7:30
Mill Creek Cinema
42: 2:20, 5:25, 8:30
BIG WEDDING: 1:45, 4:10, 6:30, 8:50
IRON MAN 3 2D: 12:05, 3:10, 6:15, 8:10, 9:20
IRON MAN 3 3D: 11:45, 2:50, 5:55, 9:00
JURASSIC PARK 3D: 1:25, 6:45
OBLIVION: 11:55, 3:00, 6:00, 9:10
PAIN AND GAIN: 12:15, 3:20, 6:20, 9:25
SCARY MOVIE 5: 4:25, 9:30
THE CROODS 2D: 12:35, 3:05, 5:40
Minor Theatre
IRON MAN 3 2D: 2:20, 5:30, 8:40
MUD: 3:15, 6:10, 9:05
PLACE BEYOND THE PINES: 2:40, 5:45, 8:50