Can You Handle Three Days of Comedy, Humboldt? No? Tough!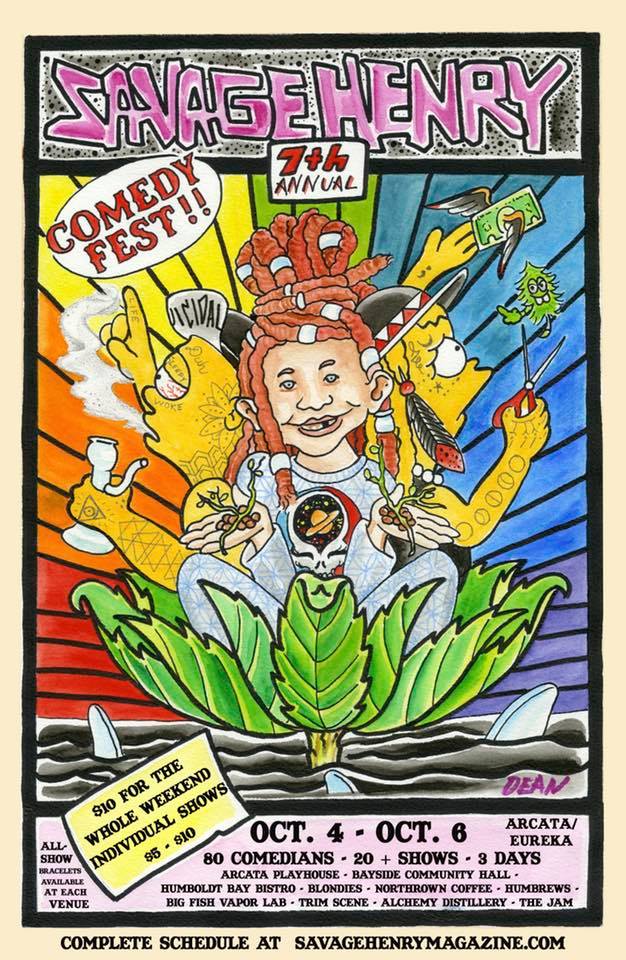 Be careful who you give lip to this weekend when Humboldt's bars will be teeming with wise-asses who have significantly more experience dealing with hecklers than you do. Trust LoCO. You are outgunned. Sip your PBR. Shh.
The influx of yuksters is, of course, once again thanks to Savage Henry Magazine who are defying all odds and staging their seventh annual Savage Henry Comedy Festival featuring over 80 comedians from around the globe at multiple local venues over three days. Standup, podcast recordings and general delinquency will ensue. Maybe this is your tribe.
So many shows! Like, if you put on pants and step out of doors, you'd need to take extra effort to not see one of 'em. Go ahead and take a gander at the individual days' schedules (Thursday, Friday, Saturday) and know that you can purchase your laugh-loving self a bracelet at any of the performances that gains you entry to the whole weekend's worth of events. ($10)
You have been warned. Less comedic Thursday options in your Lowdown listings below.
Events
Movie Showtimes
Broadway Cinema
A SIMPLE FAVOR: 12:45, 3:25, 6:05, 8:50
ASSASSINATION NATION: 7:50
A STAR IS BORN: 7:00
CHRISTOPHER ROBIN: 12:10, 2:45
CRAZY RICH ASIANS: 5:25, 8:15
FAHRENHEIT 11/9: 12:30, 3:30, 9:15
HELL FEST: 12:20, 2:40, 4:55, 7:20, 9:40
HOUSE WITH A CLOCK IN ITS WALLS: 11:50, 12:50, 2:25, 3:20, 6:00, 8:40
LIFE ITSELF: 5:10
NIGHT SCHOOL: 1:30, 4:10, 5:20, 6:50, 8:10, 9:30
NUN, THE: 1:15, 3:35, 6:10, 8:35
PEPPERMINT: 1:10
PREDATOR, THE: 1:55, 4:25, 6:55, 9:20
SMALLFOOT 2D: 11:45, 12:40, 3:10, 5:35, 8:00
SMALLFOOT 3D: 2:10
VENOM 2D: 6:30
WHITE BOY RICK: 3:50
Mill Creek Cinema
A SIMPLE FAVOR: 3:30, 9:05
A STAR IS BORN: 7:00
CRAZY RICH ASIANS: 6:05
HOUSE WITH A CLOCK IN ITS WALLS: 3:40, 6:20, 8:55
LIFE ITSELF: 3:20
NIGHT SCHOOL: 4:00, 5:40, 6:40, 8:30, 9:20
NUN, THE: 4:45, 9:30
PREDATOR, THE: 4:15, 6:50, 9:25
SMALLFOOT 2D: 3:35, 6:00, 8:20
SMALLFOOT 3D: 3:10
VENOM 2D: 6:00
WHITE BOY RICK: 9:00
Minor Theatre
A STAR IS BORN (2018): 8:00, 9:40
BLAZE: 3:00, 6:30
FAHRENHEIT 11/9: 3:25
HAL: 6:00
VENOM: 5:00, 10:35