An eyewitness to the Aug. 9 killing of 16-year-old Brandon Brocious testified today that she had broken up with the alleged murderer just four hours before she began a relationship with Brocious.
Jane Doe, 15, said she and Brocious woke up Aug. 9 to discover her cellphone was missing.
They were staying at "Christopher's brother's house," she testified.
"Who is Christopher?" Deputy District Attorney Roger Rees asked her.
"The one who killed Brandon."
Doe took the stand on the first day of murder suspect Lorna Jean Leen's preliminary hearing.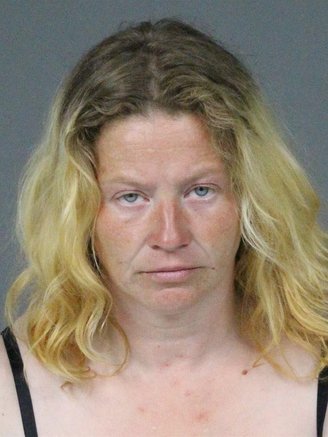 Leen is charged along with her son, Christopher Sterling, with killing Brocious at Ocean View Cemetery in Eureka. The Eureka teen died from a stab wound to the chest. Although it's alleged the 15-year-old Sterling was the stabber, his mother also is charged with murder.
Doe said she's known Leen "since I was 11 or 12 because I was in a relationship with her son on and off." On Aug. 9 she had been in a relationship with Brocious for three days, starting that relationship "four hours" after ending the one with Sterling.
When she realized her cellphone was missing, Doe said, she asked Sterling's brother Jordan about it.
"Jordan told me that Chris had been over," she recalled. The phone, along with some items Leen and her son had given Doe, was gone.
Doe said she texted Sterling and got no response. She and Brocious then went to Ocean View Cemetery, where Leen and her son had a camp in the woods "by the koi pond."
No one was at the camp, so she and Brocious peeked into the tent.
"And inside we found a necklace that I bought Brandon," Doe said, beginning to cry. She also said that when her possessions were stolen earlier in the day, the thief took methamphetamine belonging to Brocious.
In retaliation, Doe and Brocious moved the mother and son's tent, sleeping bags and clothing farther into the woods. Only about 30 feet, Doe said, because the camping items were too heavy.
Asked why they moved the camp, Doe said she was counting on Sterling's affection for his mother.
"Me and Brandon were both aware that Christopher loved his mom," Doe said. "We knew he wouldn't let her sleep out in the cold so he'd give me what I wanted (her phone)."
Later, Brocious and Doe encountered Sterling at Fort Humboldt.
"I asked him why he took my phone and he said he didn't," Doe testified. "Then he said that Jordan (his brother) gave him my phone and he left it on the back of a trailer." Sterling then changed his story again, she said, claiming the phone had been given to his cousin.
The cousin couldn't be found at his usual hangout spot at the foot of Hilfiker Lane in Eureka. So Doe, Brocious and Sterling walked to the cemetery "to see if his cousin was there and to use drugs."
Doe's testimony was brief today because the hearing was late getting started. It is expected to resume tomorrow afternoon at 1:30 before Judge Gregory Elvine-Kreis.
The District Attorney's Office, which has already disqualified Judge Kelly Neel, also attempted to have Elvine-Kreis disqualified from hearing the case. The decision to keep Elvine-Kreis was made by Mendocino County Judge Ann Moorman, who issued her ruling this morning.
Elvine-Kreis clarified today that the prosecution wanted him disqualified because, as a defense attorney, he represented Leen in 2013.
Deputy Public Defender Casey Russo, representing Leen, said outside court that Elvine-Kreis "represented her briefly on a matter."
Doe is being represented during the hearing by Deputy Conflict Counsel Meagan O'Connell, who is in court in case Doe wants advice about how to answer a question.
Sterling's attorney, Christina Allbright, also was there today for Doe's testimony. Sterling's case is being handled in Juvenile Court, although the hearings are public.
###
PREVIOUSLY