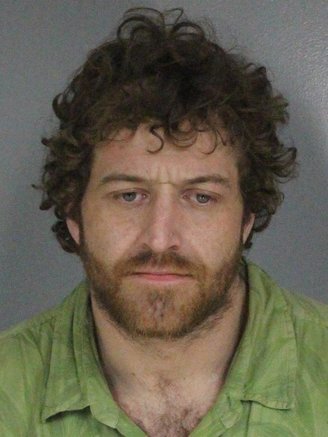 Murder suspect Ryan Anthony Tanner changed his plea this morning to not guilty by reason of insanity.

Defense attorney Russ Clanton, on behalf of the 33-year-old Ettersburg man, entered a dual plea of not guilty and not guilty by reason of insanity, meaning a jury would first decide whether Tanner murdered Jason Todd Garrett, then whether he was legally insane at the time.
"Does he understand that (a finding) of not guilty by reason of insanity could mean a life sentence in a state hospital?" Judge Larry Killoran asked Clanton. Tanner does understand, Clanton said.
"And these are your pleas then?" Killoran asked Tanner.
"Yeah."
PREVIOUSLY: Witness Describes Execution-Style Murder of a Man and Dog in a Bathtub During Ryan Tanner Prelim Hearing
Two doctors were appointed to evaluate Tanner, with their reports expected by Aug. 2.
Over the objection of Deputy District Attorney Whitney Timm, Killoran also granted a defense request to continue the trial, which was set to begin next week. It's now pushed ahead to March 23, 2022.
Timm pointed out that seven months ago, when the June 28 trial date was chosen, Clanton said he would be ready.
"The state of the evidence is the same," she said.
Because she will begin a six-month leave in September, Timm requested that if a continuance was granted the new date be set for next year. It would be unfair, she said, to assign such a massive case to a new prosecutor.
The People are expected to call 40 witnesses and display 1,000 photographs.
Clanton, in requesting the delay, said the Tanner case "has been a virtual mountain of discovery," and he and his staff have been working diligently to process the information. He said he recently received "a pretty hefty report on DNA analysis that is the heart of this case."
The transcript of Tanner's preliminary hearing is 2,000 pages. Clanton intends to file a motion to dismiss the charges and needs to rely on that transcript.
As to the issue of insanity, Clanton said Tanner is able to understand the legal proceedings because he is heavily medicated with anti-psychotic drugs. He has had mental problems since the age of 12, the attorney said.
At the preliminary hearing, several people testified Tanner had been on a violent rampage in the days leading up to Feb. 12, 2020, when he allegedly forced Garrett into a bathtub and shot him in the head with an AK-47 rifle.
Shortly after Tanner's arrest, Clanton declared a doubt about his competence to stand trial. Two doctors evaluated him, with one saying he was competent and another saying he was schizophrenic. Judge John Feeney ruled he was competent.
Clanton told Judge Killoran this morning that the decision to enter an insanity plea was not made lightly. He said that in four of his previous cases with a defendant entering the plea, all were found legally insane.
MORE PREVIOUS ETTERSBURG HOMICIDE COVERAGE: