Law enforcement tracked double-murder suspect Ulisses Rodriguez to his home in Chico after confidential prosecution witness "John Doe" provided them with Rodriguez's cellphone number, an investigator testified on the third day of trial.
Martin Morris, an investigator for the District Attorney's Office, said he and sheriff's Detective Scott Hicks drove from Eureka to Chico after Hicks obtained a warrant "to target the physical location of a cellphone." They also notified the Chico Police Department of Rodriguez's location and asked for surveillance at the residence on Esplanade Drive.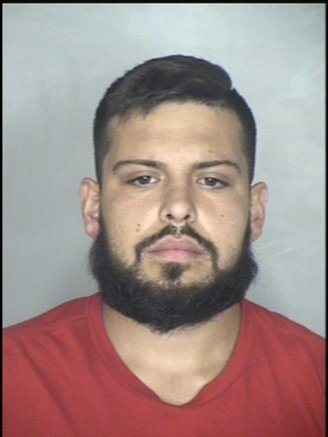 When Chico officers saw a dark blue Lexus SUV leave the residence, they pulled Rodriguez over at a nearby gas station and took him into custody. That occurred on Aug. 20, 2018, six days after Rodriguez allegedly shot a Southern Humboldt couple to death and burned their bodies.
Morris, under questioning by Deputy District Attorney Luke Bernthal, said he and Hicks searched the Lexus and also the home where Rodriguez, then 24, lived with his parents. In the Lexus they found .357-caliber ammunition, believed to be the type of ammunition used to kill Jeremy Kuemmel and Tiffany Ellebrecht.
In Rodriguez's bedroom there was plenty of documentation he was selling marijuana and marijuana-related products. No guns were discovered in the residence.
Morris also testified about how he found an associate of Rodriguez's who was on the grow site in Southern Humboldt when the couple was killed. The only information he had (from John Doe) was that the man had recently arrived from Hawaii and had an unusual appearance (a cleft palate). But with some impressive detective work Morris found David Kane in Las Vegas.
"I found him on the side of the street waiting for a ride,' Morris said. At first Kane appeared willing to talk, but then he changed his mind. Morris did seize his cellphone, and the information on the phone was downloaded. The contents of the phone were not mentioned Wednesday, but Kane's name is on the trial witness list in the courtroom.
Contrary to what this reporter wrongly stated in a previous article, Doe did discuss the man from Hawaii during Rodriguez's preliminary hearing.
As for John Doe, and what he testified to at trial as opposed to what he initially told investigators: During trial Doe said Rodriguez told him he was going to "kill and burn" Kuemmel and Ellebrecht if they returned to the grow site after he kicked them off. Defense attorney Andrea Sullivan said trial was the first time Doe ever mentioned "kill and burn."
Sheriff's investigator Hicks, who also testified Wednesday, was the first officer to interview Doe after he went to law enforcement and turned Rodriguez in. This was just a few days after the killings.
"Ulisses told him that Jeremy had stolen from him and he had given him a chance to leave but if they came back he was going to kill them," Hicks said.
Sullivan, cross-examining Hicks, asked if Doe ever said he was going to kill the couple and burn their bodies.
"I don't recall that."
As to whether Rodriguez held a gun to Doe's head and ordered him to help with the bodies, Hicks said Doe just mentioned there was a gun.
What remained of the couple's bodies was found in the back of Kuemmel's Ford Expedition, which had been set on fire and destroyed. Family members were in the courtroom as jurors were shown nearly 200 photos of the incinerated SUV and its contents.
Rodriguez's mother is also in court. His father, who is on the trial witness list, waits all day on a bench in the courthouse hallway.
Testimony was expected to continue this morning before Judge Gregory Elvine-Kreis.