It may have been the first time he ever said it, but on Tuesday prosecution witness "John Doe" insisted that a day before Ulisses Rodriguez allegedly murdered a Southern Humboldt couple, Rodriguez said he would "kill and burn" the two if they returned to his marijuana grow.
Jeremy Kuemmel and Tiffany Ellebrecht did return, and while Doe was out of sight unloading some soil, he heard shots.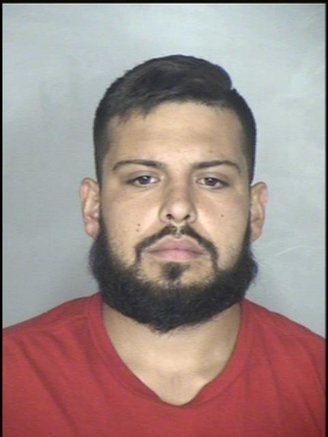 "As soon as I heard the gunshots I knew that's what he had done," Doe said under cross-examination by defense attorney Andrea Sullivan. Tuesday was the second day of Rodriguez's jury trial.
Doe, 59, was on the witness stand for a messy, four-plus hours of testimony. He testified through Ariana Rayburn, a Spanish interpreter who sat next to him on the stand. Doe had a hard time with the concept of a "yes or no answer." Under questioning by Sullivan and Deputy District Attorney Luke Bernthal, he would provide rambling explanations that were sometimes off-topic.
According to Doe, Rodriguez held a gun to his head and forced him to wrap chains around the bodies, which were then put in the back of Kuemmel's Ford Expedition. Doe said Rodriguez left for Redway to buy gasoline for burning the corpses.
Inexplicably, Rodriguez allowed Doe and his friend Chano to leave the property but warned them to be back within an hour or they would be killed.
Instead Doe went to a lawyer, Kathleen Bryson, who arranged for him to be interviewed by sheriff's investigators. He said he hoped an attorney would help and protect him.
"I didn't want to be locked up or thought of as an accomplice," he said.
Doe also testified in October 2018 at Rodriguez's preliminary hearing. At that hearing, as Sullivan pointed out, Doe never said Rodriguez pointed a gun at his head. He never said Rodriguez made the "kill and burn them" statement. He provided a different description of Rodriguez's gun.
Also, Doe never before mentioned an Asian man who had arrived from Hawaii a couple of days before the shootings and was on the scene when the couple were killed. [CORRECTION: See here.]
On Tuesday Doe could not identify Rodriguez in the courtroom as the man who terrorized him at gunpoint. Rodriguez was told to take off his Covid mask, and Doe wasn't sure. Then Bernthal showed him the mugshot taken when Rodriguez was arrested. At that time he had a full beard. Doe still couldn't be positive.
Doe said several times he is still afraid of "Ulisses." Although he is doing better now, he said, after the shootings he was hospitalized three times for depression. He suffered hallucinations and considered suicide.
The killings left him "crying and trembling with fear. I had never seen anything like that."
Sullivan suggested Doe's symptoms were caused not by emotional trauma but the abuse of methamphetamine. Doe denied that, but acknowledged he was arrested in Humboldt County in November 2019 for a meth-related offense. Doe said he was not selling the drug but used it for "a short time" to help him deal with his symptoms.
Doe told Bernthal he came to the United States from Mexico in 1985 and has always worked as a laborer. He has a fourth-grade education. Because of his trauma and poor health he can no longer work, he said. Doe lives in Los Angeles. The only explanation given for not using his real name was to protect his privacy.
Rodriguez, 27, lived in Chico but was in charge of a grow in the China Creek area of Southern Humboldt. He is accused of murder, arson, weapons allegations and making terrorist threats. He also is accused of the special circumstance of multiple victims, meaning he could be sentenced to life without parole if this jury convicts him.
The slain couple's bodies were found in the back of the Expedition, which had been set on fire and destroyed in a turnout on Briceland Road.
###