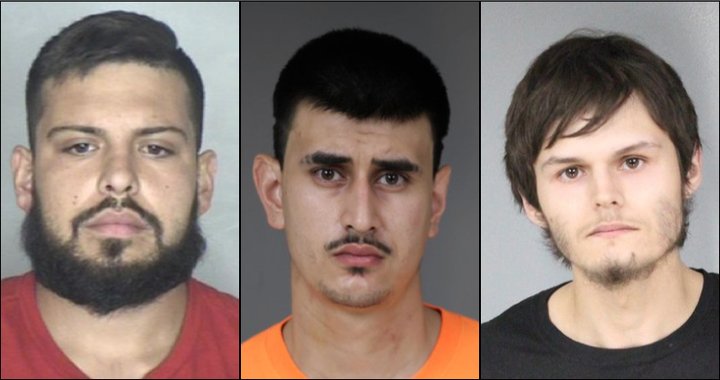 Double-murder and arson suspect Ulisses Rodriguez is determined to go to trial on Christmas Eve as scheduled, but his lawyer may have to overrule him.

Deputy Public Defender Ben McLaughlin, representing the 24-year-old Chico man, told Judge Christopher Wilson that Rodriguez "is disinclined to waive his right" to a speedy trial, even though the defense expects to be handed a large amount of new evidence to review.
"The defense is going to be receiving a substantial amount of discovery," Deputy District Attorney Trent Timm confirmed during Rodriguez's trial-confirmation hearing Wednesday.
Rodriguez is accused of shooting Jeremy Kuemmel and Tiffany Ellebrecht to death on Aug. 14 at a marijuana grow site in the China Creek area of Southern Humboldt. He then allegedly put the couple's bodies in Kuemmel's Ford Expedition and set it on fire. According to an eyewitness who testified at the preliminary hearing, Kuemmel and Ellebrecht were working at the grow site and Rodriguez believed some of his marijuana plants had been stolen.
McLaughlin, concerned about going to trial before he is prepared, said he plans to speak "with my colleagues and my supervisor" about the ethics of going forward.
"I may in fact be asking for a continuance over (Rodriguez's) objection," he said.
Wilson noted that although Rodriguez has a right to a speedy trial, he also has the right to a fair trial with an attorney who is prepared.
"There is an ongoing investigation and much information that will be derived from that," the judge said. For now, however, "I'll leave it set."
A Dec. 21 hearing is scheduled for assigning the trial to a specific courtroom.
###
Attorneys are continuing to discuss a possible plea deal for Cesar Octavio Valenzuela-Campos, one of five people charged with a December 2016 murder and carjacking on State Highway 255 near Manila.
On Wednesday Deputy Public Defender Casey Russo, representing Valenzuela-Campos, asked Judge Judge John Feeney to delay setting a trial date while negotiations continue between him and Deputy District Attorney Carolyn Schaffer.
"There is ongoing discussion on resolving this matter," Russo said.
A new trial-setting date was scheduled for Dec. 19.
Two co-defendants, Brandon James Mitchell and Tamara Nicole Thomson, are scheduled to be tried together in March. The prosecution's chief witness will be co-defendant Catherine "Catie" Fode, who agreed to testify in exchange for pleading guilty to voluntary manslaughter. Mitchell is the father of Fode's 5-year-old daughter.
No trial date has been set for suspect Hector Godoy-Standley, Fode's former boyfriend.
Mitchell is accused of shooting 20-year-old Tyson Eduardo Claros to death, reportedly because he suspected Claros of molesting his young daughter. The others were charged with murder for participating in the carjacking, although a new state law has made it much more difficult to charge accomplices with murder.
PREVIOUSLY:
###
An 20-year-old Arcata man has been charged with attempted murder after allegedly opening fire on a group of people outside an apartment complex on Monday morning.
Arcata police reported one man in his 20s was shot in the leg when Matthew Allen Ramsey of Arcata began firing a rifle during a dispute between two groups of residents at the apartment building on Heather Lane. The injured man was taken to a hospital for treatment.
Today Ramsey's preliminary hearing was scheduled for Dec. 12.
Arcata High School was briefly on lockdown during the incident, which occurred just a few blocks from the school.
Ramsey remains in custody.
PREVIOUSLY:
###
The case against a local man charged with first-degree attempted murder is proceeding slowly through the court system.
Justin Derrick Crumbley is charged with stabbing Stephen Paul Sottong on Nov. 9, 2016, resulting in a charge of willful, premeditated and deliberate attempted murder. Court proceedings apparently have been delayed the past two years over the question of Crumbley's mental competence.
Today Judge Christopher Wilson, after a closed hearing at which attorneys discussed the case, announced that Crumbley's preliminary hearing remains set for Dec. 12, "if it goes."
Wilson said Crumbley has agreed to give up his right to a preliminary hearing, but the District Attorney's Office may decide to proceed with the hearing regardless.
The judge said it's possible Crumbley may enter a so-called "dual plea," which would be not guilty and not guilty by reason of insanity.
The 34-year-old Crumbley, who remains in Humboldt County Correctional Facility, did not appear in court today. He is represented by Deputy Conflict Counsel Meagan O'Connell.
PREVIOUSLY: