Ex-Mendocino Mountain Man and Proto-Smart Punk Larry Livermore Has a New Book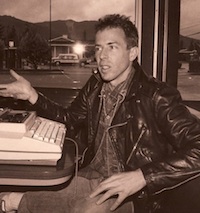 The late '80s and early '90s were a formative period for your Lost Coast Outpost Lowdown (or at least that portion of it that wasn't 11 years old at the time). You had Redwood Summer, you had the beginnings of the East Bay/Gilman Street music scene, you had Mendocino County radical print culture — the AVA, the Mendocino Memo, the Lookout. You had marijuana cultivation. Blend those things together, bake in the 100-degree Willits sun for a few summers. It makes an impression.
The common thread that connected it all was my soon-to-be-friend Larry Livermore, whose book on the period — Spy Rock Memories — was just published. Spy Rock Memories is a lot of different stories blended into one. It's a tale of a city person falling in love with and learning to make his way in the harsh North Coast backwoods, but it also touches on the genesis of a social movement that still shapes Humboldt County politics today and on the early days of his Lookout record label, which took the East Bay/NorCal punk ethos nationwide.
Will you meet the young members of Green Day in the book? Yes, you will. Can you name three members of Brent's TV? Were you at the Garberville Vets' Hall Screeching Weasel-Lookouts-Mr. T Experience show? This book is for you.
It was a great read. I'm not just saying that.
Livermore will be at Northtown Books tonight at 7 p.m. to read from Spy Rock Memories, sign some books (and/or old T-shirts) and probably — knowing him — to chat some ears off. Earlier in the day he'll hit Larry Trask's "Awkward Pause" radio show on KHUM to talk about the book and spin some records. That's at around 3 p.m. on KHUM — 104.3 FM, streaming at khum.com.
Or maybe you think the ocean is more punk than reading books? Ocean Night returns Friday with a screening of the film Deep Water (2006). Watch the trailer below. —Hank Sims
The Lowdown Fun Committee
Larry Likes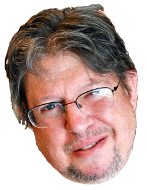 Events
Reggae on the River
French's Camp / 9 a.m.
Making a highly anticipated return to the festival's original French's Camp venue, located approximately 10 miles south of Garberville. Music by Julian Marley and The Uprising Band, Morgan Heritage, Tarrus Riley and Blak Soil, Anthony B and many more.
View Comments
Ocean Night Film Screening
Arcata Theatre Lounge / 6:30 p.m.
From majestic documentaries to epic surf flicks, explore the great blue sea with Ocean Conservancy, Humboldt Surfrider and Humboldt Baykeeper. This months film Deep Water (2006) is a documentary about the disastrous 1968 round-the-world yacht race.
822-1220 / Web site / View Comments
Larry Livermore Spy Rock Memories Reading
Northtown Books / 7-9 p.m.
In 1982, Livermore, ex-greaser, post-hippie, burnt out and disillusioned by the Bay Area punk scene, journeyed north into an off the map, off the grid mountain wilderness that lay at the heart of California's Emerald Triangle in search of something "real."
822-2834 / info@northtownbooks.com / Web site / View Comments
Movie Showtimes
Broadway Cinema
2 GUNS: 1:25, 4:05, 6:10, 6:45, 8:50, 9:25
CONJURING: 1:15, 4:00, 6:45, 9:30
DESPICABLE ME 2 2D: 1:00, 3:30, 6:00, 8:35
GROWN UPS 2: 12:20, 3:15, 5:45, 8:15
PACIFIC RIM 2D: 12:10, 3:10
RED 2: 12:35, 3:20, 6:15, 9:05
RIPD IN 2D: 4:15, 9:20
SMURFS 2 2D: 12:30, 2:25, 3:10, 5:00, 5:50, 8:30
SMURFS 2 3D: 11:50, 7:40
THE HEAT: 1:30, 6:30
TURBO 2D: 2:50, 5:10, 7:30
TURBO 3D: 12:25
WOLVERINE 2D: 11:55, 3:00, 6:05, 9:10
WOLVERINE 3D: 1:40, 4:50, 8:00
Mill Creek Cinema
2 GUNS: 12:30, 3:10, 5:50, 8:30
CONJURING: 1:15, 4:00, 6:40, 9:20
DESPICABLE ME 2 2D: 12:20, 2:55, 5:30, 8:00
GROWN UPS 2: 3:30, 9:00
PACIFIC RIM 2D: 12:35, 6:00
RED 2: 12:05, 2:50, 5:40, 8:25
SMURFS 2 2D: 2:45, 6:30, 8:20
SMURFS 2 3D: 12:45
TURBO 2D: 12:55, 3:20, 5:45
TURBO 3D: 8:10
WOLVERINE 2D: 11:45, 5:20
WOLVERINE 3D: 3:25, 9:10
Minor Theatre
2 GUNS: 3:50, 6:25, 9:00
THE WAY WAY BACK: 4:10, 6:40, 9:10
WOLVERINE 2D: 5:30, 8:30