Wednesday, March 8, 2017's Chowdown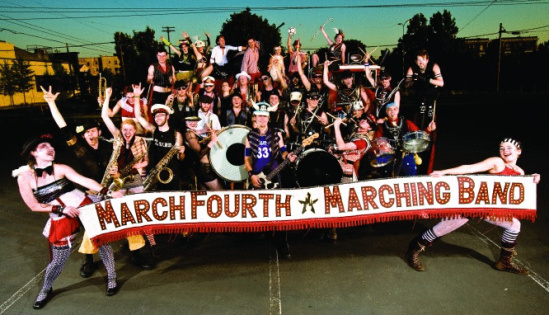 What? Does this Wednesday thinks it's a Saturday? Humboldt is blessed with a ridiculous amount of music on International Women's Day. Geez. Let's just quickly hit the highestlights:
Matisyahu does not look like the reggae rabbi you remember. Nearly a decade after his quick rise to stardom, the Jewish singer/beatboxer looks all clean and, more importantly, he's still making new music (check out the far left YouTube below). Matisyahu takes on SoHum at the Mateel Community Center Wednesday.
Do you like joy? The Arcata Theatre Lounge is going to be drowning in it when it hosts both the Pimps of Joytime and the MarchFourth Marching Band. Seems like a tossup as to who headlines a show like this, so check them both out in the middle two clips below.
Your next Redwood Jazz Alliance show at the Morris Graves Museum stars Brooklyn jazz quartet Endangered Blood, a group good enough to warrant their own NPR Tiny Desk Concert (video below on the far right).
And that's not all! There's also interesting looking free shows at both The Siren's Song Tavern and the Arcata Playhouse. And don't even get me started on the McKinleyville Community Services District's Candidate Forum! Oh my! Details on everything Wednesday in your Lowdown listings below! —Andrew Goff
Events
Restaurants
Eureka
Arcata
Eel River Valley
McKinleyville
SoHum
Trinidad
Blue Lake
---
Movie Showtimes
Broadway Cinema
BEFORE I FALL: 12:55, 3:30, 6:00, 8:30
COLLIDE: 9:05
FIST FIGHT: 1:25
GET OUT: 4:20, 6:55, 9:30
JOHN WICK: CHAPTER 2: 1:00, 3:45, 3:45, 6:20, 8:55, 8:55
LA LA LAND: 12:00, 2:55, 5:55, 8:50
LOGAN: 11:55, 11:55, 1:30, 3:00, 3:00, 4:40, 6:10, 7:50, 7:50, 9:15
MOONLIGHT: 3:50, 3:50, 6:30, 9:10, 9:10
REAR WINDOW: 2:00, 6:30, 6:30
ROCK DOG: 1:35, 4:00
TABLE 19: 12:50, 12:50, 3:05, 5:15, 5:15, 7:25, 9:35, 9:35
THE GREAT WALL 2D: 1:40, 4:15, 6:50, 9:25
THE LEGO BATMAN MOVIE 2D: 12:10, 2:50, 5:25, 8:00, 8:00
THE SHACK: 11:45, 11:45, 2:45, 2:45, 5:45, 8:45, 8:45
Mill Creek Cinema
BEFORE I FALL: 4:15, 6:45, 9:15
GET OUT: 4:10, 6:50, 9:25
JOHN WICK: CHAPTER 2: 3:30, 6:15, 9:05
LA LA LAND: 2:50, 5:50, 8:50
LION: 5:40, 8:30
LOGAN: 2:55, 6:00, 9:05
ROCK DOG: 3:20
THE GREAT WALL 2D: 3:35, 6:10, 8:45
THE LEGO BATMAN MOVIE 2D: 3:00, 5:35, 8:10
Minor Theatre
LOGAN: 1:30, 5:00, 9:00
MOONLIGHT: 8:00
PATERSON: 1:00, 6:00
THE RED TURTLE: 3:45, 5:30
THE SALESMAN: 2:15