THURSDAY LOWDOWN: Songs You Know, OK?
SCROLL! Your Thursday Lowdown listings below and honestly ask yourself what other secluded region of 100k people has this much going on on a weeknight. And this is a pretty average one, really. Humboldt, you overachiever, you.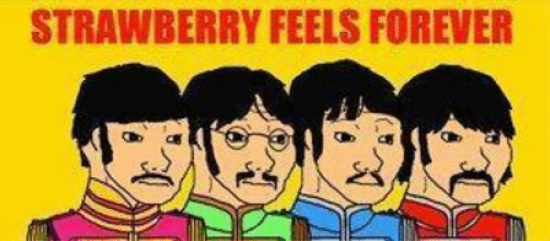 OK, but we gotta pick something. Uh. Ah. How does turning off your brain and just letting the joystalgia wash over you sound? Sure. Then LoCO suggests Humboldt's hardest working, uncomplicated Beatles tribute band Silver Hammer who will play only songs you love at HumBrews this eve.
You know all the damn words. Have a beer, shut up, shut off and sing. Let's get through this.
Events
Movie Showtimes
Broadway Cinema
AMERICAN ASSASSIN: 7:00
ANNABELLE: CREATION: 1:35, 4:15, 9:30
BABY DRIVER: 5:40, 8:25
BIRTH OF THE DRAGON: 1:55
DUNKIRK: 3:05, 8:40
GLASS CASTLE: 12:35, 3:25, 6:15, 9:05
HITMAN'S BODYGUARD: 12:25, 3:15, 6:05, 8:55
HOME AGAIN: 12:20, 1:30, 2:45, 3:55, 6:25, 8:50
INGRID GOES WEST: 4:10, 9:25
IT: 12:00, 1:00, 1:00, 3:00, 4:05, 5:10, 5:10, 6:10, 7:10, 7:10, 8:15, 8:15, 9:15, 9:15
LEAP!: 12:55, 3:20, 3:20
LOGAN LUCKY: 1:20, 6:35
MOTHER!: 7:00
THE DARK TOWER: 4:35, 9:40
WIND RIVER: 12:30, 3:10, 5:50, 8:30
WONDER WOMAN 2D: 12:05, 5:35
Mill Creek Cinema
ANNABELLE: CREATION: 4:05, 6:45, 9:25
DESPICABLE ME 3 2D: 3:20
HITMAN'S BODYGUARD: 3:30, 6:20, 9:10
HOME AGAIN: 4:50, 7:10, 9:30
IT: 3:05, 4:40, 6:10, 7:45, 9:15
LEAP!: 3:15
SPIDER-MAN: HOMECOMING 2D: 5:30, 8:30
WIND RIVER: 3:35, 6:15, 8:50
WONDER WOMAN 2D: 5:35, 8:40
Minor Theatre
AN INCONVENIENT SEQUEL: TRUTH TO POWER: 5:00
INGRID GOES WEST: 9:45
IT: 3:30, 6:30, 9:30
LOGAN LUCKY: 3:00, 5:45, 8:30
WIND RIVER: 2:30, 7:15