FRIDAY LOWDOWN: Eureka is Better This Summer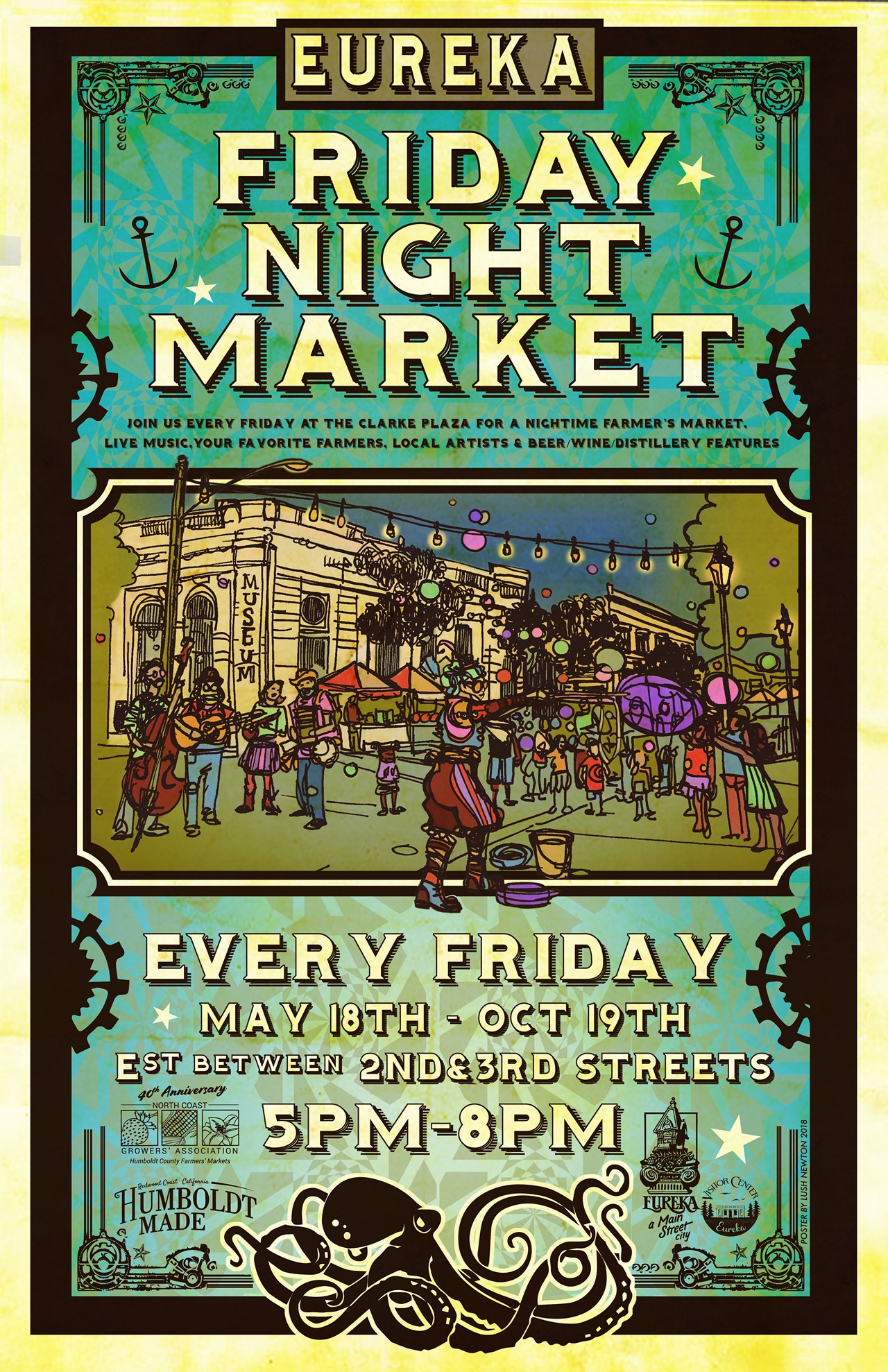 Over the last few decades or so numerous cities have developed a tradition commonly known as "going out." Maybe you have visited a place where this occurs. Maybe you had fun! But for some reason this practice hasn't ever really appealed to the people of Eureka (save for the first Saturday of each month when they do their best to pretend to care about art).
Perhaps that all changes now? Let's watch!
Starting on Friday, May 18, various city movers and/or shakers are launching the Eureka Night Market, a weekly place for "the folks" to gather — centered around the Clarke Plaza on Opera Alley — for music, libations, local wares-offering artisans, a farmers' market (you'll agree that's a major selling point, here), as well as what is known as a sense of community.
You can do this, Eureka! And if you can't make the first Eureka Night Market, fret not. You have Friday's all summer and fall — through Oct. 19 — to try this thing out. Assemble!
Or… other Friday options in your Lowdown listings, below.
Events
Movie Showtimes
Broadway Cinema
A QUIET PLACE: 12:20, 2:35, 4:50, 7:20, 9:35
AVENGERS: INFINITY WAR 2D: 12:10, 2:05, 3:35, 5:25, 7:00, 8:45
BOOK CLUB: 11:50, 1:00, 3:30, 6:10, 8:35
BREAKING IN: 12:05, 2:20, 4:35, 6:55, 9:15
DEADPOOL 2: 12:20, 1:20, 2:15, 3:10, 4:10, 5:05, 6:00, 7:00, 7:50, 8:50, 9:45
I FEEL PRETTY: 1:40, 6:50
LIFE OF THE PARTY: 1:15, 3:50, 6:25, 9:00
OVERBOARD: 1:05, 3:45, 6:30, 9:10
SHOW DOGS: 11:55, 12:50, 3:20, 5:45, 8:10
SUPER TROOPERS 2: 4:20, 9:30
Mill Creek Cinema
AVENGERS: INFINITY WAR 2D: 12:55, 2:20, 4:20, 5:40, 7:45, 9:00
BOOK CLUB: 11:55, 2:15, 4:35, 7:00, 9:20
DEADPOOL 2: 11:50, 1:10, 2:40, 4:00, 5:25, 6:50, 8:15, 9:40
LIFE OF THE PARTY: 12:35, 3:15, 5:50, 8:20
OVERBOARD: 1:15, 3:50, 6:30, 9:10
SHOW DOGS: 12:15, 2:35, 4:55, 7:15, 9:30
Minor Theatre
AVENGERS: INFINITY WAR: 1:30, 5:00, 8:30
DEADPOOL 2: 12:30, 3:30, 6:30, 9:30
RBG: 3:00, 5:30, 8:00