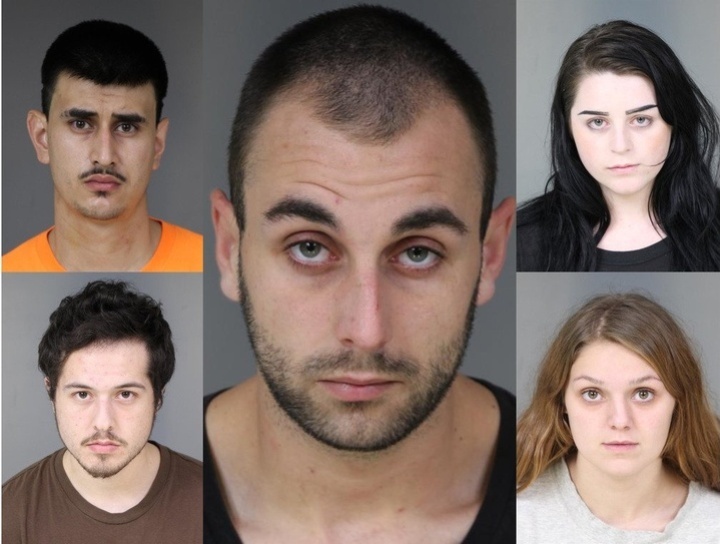 ###
All five defendants in a Dec. 12 carjacking and murder in Manila will now move forward together through the justice system.
This morning visiting Judge Douglas Mewhinney granted a prosecution motion to join the case of Cesar Octavio Valenzuela and Tamara Nicole Thomson with that of Brandon James Mitchell, Hector Godoy-Standley and Catherine Suzanne Lynn Fode. All will now appear together for a preliminary hearing, which was rescheduled today for March 20.
The five are accused of murdering 20-year-old Tyson Eduardo Claros, who was shot multiple times during a carjacking on state Highway 255. Valenzuela, 23, and his 18-year-old girlfriend Thomson were arrested first and made statements implicating themselves and the other three. Mitchell, 21, later turned himself in. And Godoy-Standley, 21, and his 18-year-old girlfriend Fode were arrested a few days later.
The law limits how a codefendant's statement to police can be used during a trial. But Judge Mewhinney noted this morning that those rules do not apply for a preliminary hearing.
With a great deal of evidence to consider, the district attorney has been under pressure to turn over information to the five defense attorneys. Deputy District Attorney Luke Bernthal presented several CD's to each lawyer this morning, and said he is trying to provide data as quickly as possible.
"The investigation is ongoing," Bernthal told the judge.
According to law enforcement reports, Claros was killed because Mitchell and Fode believed he had molested their 3-year-old daughter. No charges were ever filed against Claros, and his family has said the allegation was investigated and not enough evidence was found.
All five defendants were allegedly packing guns during the carjacking and killing, though only Mitchell is accused of firing a gun.
Mitchell is being held on $1.5 million bail. The other four have bail set at $1.25 million.
###
PREVIOUSLY: