PREVIOUSLY:
###
If vehicular manslaughter suspect Marcia "Marci" Kitchen wasn't aware she had run over two girls on Eel River Drive, her passenger apparently was.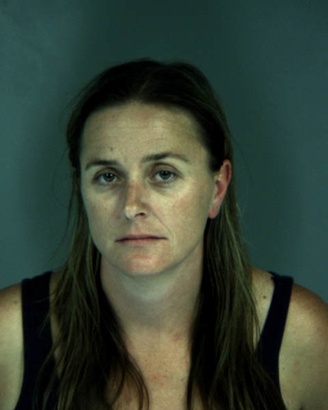 Today, the second day of Kitchen's preliminary hearing, Kitchen's 18-year-old son offered devastating testimony against his mother. When she returned home in her wrecked Jeep, he said, her passenger "Trent" said they had hit two girls.

Jevin Kitchen also said his mother put her car keys in his hands and told him to drive into a basketball hoop as hard as he could, "to make it look like she ran into it."
"I refused," the teen-ager said under questioning by Deputy District Attorney Stacey Eads. ""I handed her back the keys and told her that was a stupid idea."
Jevin said he could "easily" smell alcohol on Marci.
"Was she intoxicated?" Eads asked.
"Yes. I've been around her long enough to be able to say when she's had enough beers that she's drunk."
Marci Kitchen, 39, is charged with vehicular manslaughter, driving while intoxicated and hit-and-run. She has admitted to several people that she was behind the wheel when her Jeep struck her daughter Kiya Kitchen and Kiya's friend Faith Tsarnas on Eel River Drive the night of July 12. But Kitchen has claimed she believed she hit a deer. She pulled over, looked back and didn't see anything, so drove the short distance to her home.
Jevin Kitchen was home when his mother arrived, and he heard her calling him to come and help. He was shocked when he came outside and saw the "destroyed" front end of the vehicle.
He testified that his mother was evasive about what happened, claiming she had hit either a deer or a pole. But Marci's friend William Trent Stewart, who had been riding with her in the Jeep, had another explanation.
"I heard him say that they hit two girls in bikinis," Jevin said. "Or as he put it, hoochies."
Prior to asking him to drive into the basketball hoop, Marci reportedly told her son to get rid of a 7-pound bag of untrimmed marijuana that was in the back of the Jeep. He did that, tossing it over a fence.
Shortly afterward Marci's boyfriend Josh Pearlston drove up and asked where Kiya and Faith were. That's when it dawned on Jevin that they might be the two girls who had been run over. He had seen the two 14-year-olds leaving the house about sundown, giggling and carrying longboards.
Jevin and his friend David Reed jumped in Reed's truck and headed to the accident scene. "Faith had been rolled over on her back," he recalled. "She was lying in the middle of the road dead."
Then he saw people hovering around someone else.
"I moved and I saw my sister's face," Jevin said.
Told that his sister was being taken to Redwood Memorial Hospital, he and his friend took off.
They stopped by his house first so he could get his cellphone, charger, wallet and Epi Pen. He figured it was going to be a long night.
He said the Jeep was no longer in front of the house but had been moved. According to earlier testimony, the Jeep was placed behind a gate in a side yard.
Jevin said he waited at the hospital "for what seemed like hours" for his mother to arrive. While at the hospital, he said, Marci "told me not to tell anyone what happened that night. That she did it."
When it was determined that Kiya needed to be taken to Oakland Children's Hospital. Jevin rode to Oakland with his father and a friend of the father. The next morning in Oakland, Kiya died. He and his parents were there with her.
"We were crying," he said. "There was just so much shock. I was just sitting there trying to process that my sister was dead on the table. And somewhere in the silence my Mom spoke up and said 'I did this. I killed her. I killed both of them.'"
Jevin said his father stared at her and was "immediately furious."
"But a weight fell off my shoulders because I had to keep it secret from my dad on the drive down."
Marci Kitchen, who has shown no emotion during previous testimony, was crying when her son left the witness stand.
Trent Stewart, a friend of Marci Kitchen's since childhood, was riding with her when her Jeep struck the teens. He denied today that he had made statements about hitting two girls. He also said Marci had nothing to drink that day, though he had drunk enough beer to make him lose his memory.
Kitchen told officers she had two drinks all day.
Stewart said he stayed at Kitchen's house when she and Josh Pearlston left to go to the accident scene. But according to California Highway Patrol Officer William Chase Adams, Stewart was there with Pearlston and Kitchen, yelling at officers to let Marci see her daughter.
Kiya and Faith were hit with such force that imprints of their buttocks were left on the Jeep's front bumper. Adams testified today that Faith had imprints from letters and numbers on the license plate on the back of her legs.
Chase has testified that he believes Marci Kitchen was driving at a high rate of speed. Under cross-examination today by defense attorney Patrik Griego, Chase said he couldn't estimate the speed exactly. He also said he couldn't say whether Eel River Drive meets safety codes.
Chase said both girls had THC (the active ingredient in marijuana) in their systems. And he admitted they were partially at fault because they were in the middle of the road instead of being on the shoulder facing oncoming traffic.
"They both violated the vehicle code," he said, and that was a contributing factor in the collision.
Also at issue is whether even a driver not under the influence would have had time to react when suddenly encountering pedestrians in the road. Chase said he didn't know, but that other drivers coming by later were able to avoid Faith's body.
"There was an excellent line of sight at the location," he said.
Griego asked whether given perception/reaction time, the lighting in the area and the visibility of the girls, Marci Kitchen would have been able to avoid hitting them.
"I can't say," Chase said.
Fortuna police Sgt. Jason Kadle has testified that he noticed a "moderate odor" of alcohol coming from Kitchen. But Chase said the alcohol odor was overwhelming, and that Kitchen was obviously very intoxicated. He said she was still intoxicated a couple of hours later at the hospital. And the flight crew taking Kiya to Oakland refused to allow her on the plane because they thought she was drunk.
Jevin Kitchen is expected to continue testifying tomorrow morning. Judge John Feeney is presiding over the hearing, and will make a decision on whether there is enough evidence to warrant a trial.
###

THE KITCHEN CASE: