The defense attorney for Clayton Lee Lasinski wants the state be held in contempt and fined for not accepting Lasinski as a mental patient.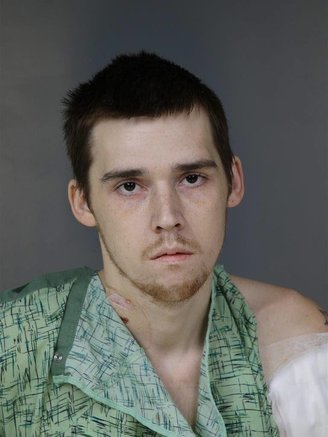 "Mr. Lasinski has been here for far too long," Deputy Conflict Counsel Meagan O'Connell told Judge Christopher Wilson this morning. Lasinski, 27, was arrested after a wild downtown Eureka chase in December 2016. Police fired about 40 shots at him, hitting him once in the chest. He was declared mentally incompetent on Nov. 2 and committed to Napa State Hospital on Nov. 29. Two months later, he is 55th on the waiting list for admission.

O'Connell said the state Department of Hospitals always has the same response to complaints about long delays: The number of inmates declared mentally incompetent has increased exponentially, and the hospital system is struggling to keep up with the demand.
"I don't think the state is doing enough to address this," O'Connell said. She asked Wilson to hold the state in contempt of court, then impose fines for every day Lasinski remains in Humboldt County Correctional facility, receiving no treatment for his mental problems.
Department of Hospitals spokesman Shawn King was on speaker phone this morning in the courtroom. He said O'Connell's points are "well-taken," but he pointed out there "has been at least some progress."
King said Lasinski has moved up to No. 55 on the list, which is up 10 spots from the last court hearing, and his scheduled admission date is now March 23.
He argued that the delay "does not rise to the level of contempt." King also said the state is making a "sincere effort" to prioritize inmates such as Lasinski. As of last week, King said, 907 people are in state hospitals after being declared incompetent to stand trial.
"I think it's a record," he said.
The state is entitled to an evidentiary hearing on whether it should be held in contempt. Wilson scheduled that hearing for Feb. 20, with a pre-trial conference set for Feb. 9.
The purpose of sending mentally incompetent inmates to state hospitals is to restore their competency. If an inmate is declared restored to competency, he or she returns to again face the charges.
In Lasinski's case, the charges would mean about 50 years in prison if he is convicted. He allegedly fled from a California Highway Patrol officer who tried to pull him over for not wearing a seatbelt. He then reportedly went on to threaten civilians and officers with a loaded handgun, steal one car and attempt to hijack another vehicle. He never fired a shot from the handgun, which had been stolen in Trinity County a few months earlier.
At the time of his arrest, Lasinski told police he thought pursuing officers were gang members.
# # #
PREVIOUSLY