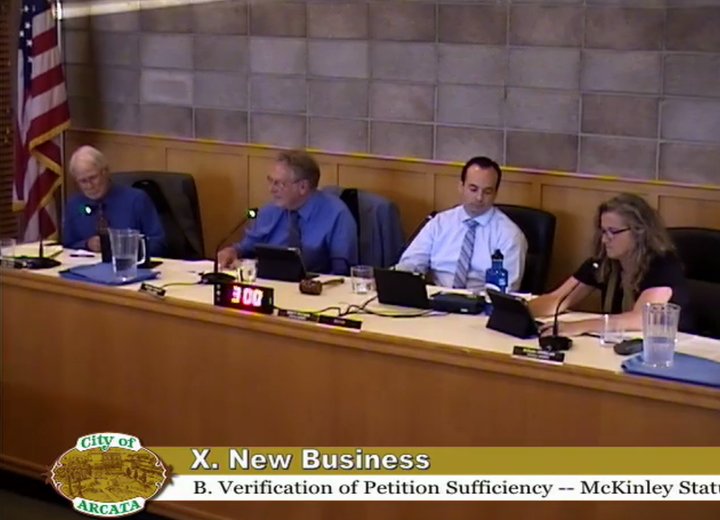 The process for removal of the McKinley statue from its longtime home on the Arcata Plaza has led to much controversy in Arcata, sparking protests, passionate public comment and Fox News segments.
Well, now Arcata voters will have their say. Last night the Arcata City Council voted to put the issue on the November ballot.
By a 4-0 vote (councilmember Sofia Pereira was not present) the council opted to put the initiative — given the catchy name "An Initiative to Prohibit the Modification and/or Destruction of the President William McKinley Statue and Its Base and/or the Relocation from its Historic Place in the Center of the Arcata Plaza" — on the ballot. A petition for the initiative measure was approved by the county on June 14, after verifying 1,426 collected signatures.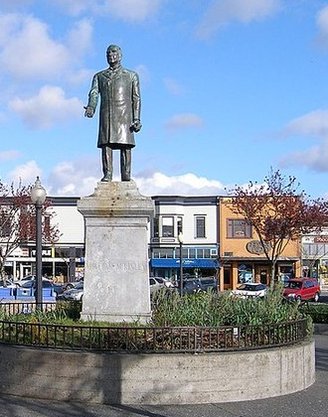 Arcata City Council had already voted 4-1 to remove the statue in February, but some folks, including councilmember Michael Winkler, were not satisfied with that outcome. So he and others went to work gathering signatures to get an initiative on the ballot.
Once the initiative is approved for a measure, the City Council has three options: Adopt the ordinance without alteration, submit the initiative to Arcata voters in the election, or direct City staff to prepare a report on the impacts and debate further.
During Wednesday night's public comment some folks voiced support for each of the options. But most people were in favor of putting it on the ballot.
Arcata resident and former councilmember Alex Stillman voiced her support of submitting the issue to a vote. "It's been a rough road for everybody," she said. "But I think it's come to a point where we should just let the voters make a decision."
Pro and con statements need to be drafted for the ballot, which the Council agreed should be written by an outside party, rather than themselves. Anyone can submit a statement and the City Clerk will review them to decide which ones are the best fit.
For all Arcata residents who feel passionately about this issue, make sure you register to vote for the November 6 election.
# # #