An eyewitness to the fatal shooting of Robert "Bob" James Holtsclaw said today that murder suspect Zachary Cordell Harrison first pointed the rifle at him.
"I hid behind Bob," Tory Hennings testified during Harrison's preliminary hearing this morning, "and then he shot him."
Hennings said Harrison then took off in his black Ford F350 pickup truck.
"He had a look of satisfaction," Hennings recalled under questioning by Deputy District Attorney Joel Buckingham.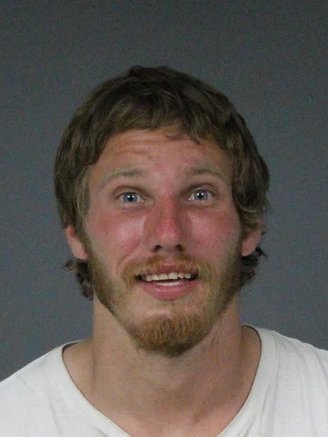 Harrison's preliminary hearing lasted about 20 minutes, ending with visiting Judge Terrence Boren holding him to answer on a charge of first-degree murder with the special allegation of personally using a firearm to kill someone. If convicted he could face two life terms in prison.
Hennings said he and Holtsclaw, 58, had just left a horseshoe tournament. Holtsclaw was driving him back to his home off Sixth Street in Alderpoint. It was about noon on Sept. 23, 2017.
He got out of Holtsclaw's truck to open the gate to his property, Hennings said, when he saw Harrison in a neighboring driveway holding a rifle and pointing it at him. He knows he hid behind Holtsclaw, who was sitting in his truck, but he's not sure whether he was back in the truck before Harrison opened fire.
"Bob started hollering and drove into the ditch," Hennings testified.
Hennings estimated Harrison shot Holtsclaw while standing "from about here (the witness stand) to that door back there," meaning the courtroom door to the hallway. He said the entire episode lasted 15 to 30 seconds.
Under cross-examination by Deputy Public Defender Brie Bennett, Hennings said he had known Harrison since he was a little kid and considered him a friend. Harrison is now 28.
Asked whether he and Harrison had "financial dealings," Hennings said they grew pot together.
"Over the past three years we were partners in two different years," he said. "We skipped one year."
He acknowledged Harrison had confided in him at some point that he had mental problems.
After the shooting Hennings ran from the scene and asked someone to call 911. He returned about five minutes later to retrieve his pet dog, which he had left behind in Holtsclaw's truck.
"I could tell he was dead," he said. "He wasn't moving, he wasn't making noise. He was dead. It was pretty obvious."
Sheriff's Investigator Mark Peterson, who attended the autopsy four days later, testified a bullet had passed through Holtsclaw's left arm and then his chest.
When testimony concluded, Bennett asked Judge Boren not to hold Harrison to answer based only on the testimony of one witness.
"There's no reason to believe that he himself is not the perpetrator," Bennett said.
And there is also no basis for a charge of first-degree, premeditated murder, the defense attorney argued.
"There's no words, no bad blood between the two of them," she said, and Harrison wouldn't have known the two men were going to show up when they did.
Buckingham responded that Harrison was waiting outside a person's residence with a firearm.
Boren ruled there had been enough evidence presented to hold Harrison for trial. His arraignment on the charges is scheduled for Sept. 27.
Harrison, who managed to elude an intense manhunt in rural Southern Humboldt for more than eight months, has been in custody since he was arrested in early June in the Walmart parking lot at Bayshore Mall. Bail is set at $2 million.
# # #
PREVIOUSLY