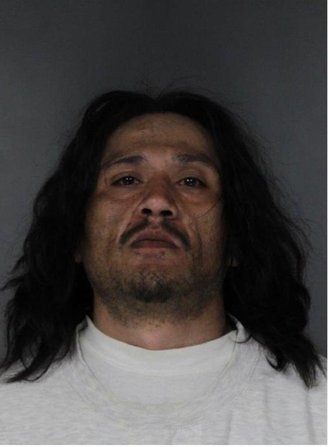 A few hours after he allegedly shot his sister in the face with a sawed-off shotgun, Antone Richard Aubrey IV gave a statement that backs up his plea of not guilty by reason of insanity.

During the interview with two Humboldt County sheriff's detectives, Aubrey claimed:
"This whole world is based on me."
"I'm actually the leader of God's people."
"Jesus came down and told me I had to do something about it."
"I'm the whole reason a lot of people are living right now."
"I'm the only one strong enough to break the spell."
"I'm a medicine boy. If you got shot I could heal you."
He pointed out the "shadows" that were running around him, noting one was black and one was white. He said they were "little demons."
"They disrespect me and they throw sticky stuff at me," he said.
"Do the shadows ever make you do anything you don't want to do?" he was asked.
"No. They mess with me. They make me think someone's coming after me, someone's going to hurt me."
The videotape of the interview was played Tuesday, the first day of Aubrey's murder trial. He has waived his right to a jury trial, so Judge Christopher Wilson will decide whether he is guilty of murder and whether he was legally insane at the time. Aubrey is accused of murdering his sister, Angel Louise Aubrey, on Feb. 17, 2018, behind the Hoopa gas station and mini-mart.
During the interview later that day, Aubrey made wild statements but stuck to a theme. For the past four years, everyone had been disrespecting him and his children. He wanted to "get my head on straight," find a place and get his kids back. But nobody would vouch for him. They just kept "kicking me while I was down."
Piecing together statements of various witnesses, Antone and Angel were having a conversation that turned into an argument. Antone didn't like the way his sister was talking about his kids.
"You're my little brother and I love you," Angel said.
"I'll show you what kind of little brother I am."
Then, a shotgun blast and Angel lying dead on the ground.
Detective Jennifer Taylor, formerly Jennifer Turner, tried repeatedly during the interview to get Aubrey to focus on the subject of his murdered sister.
He provided a wide variety of answers. First he said she'd been dead for a long time. Then he denied Angel was dead, saying "Prove it." Once he said he'd talked to her after she died, and she assured him everything was fine.
"(She said) 'I'm all right bro; I'm OK.' "
"I could hear her talking to the doctors. She feels bad about disrespecting my kids."
At one point he said Angel deserved to die. Once he claimed "she murdered my kids."
Asked how many children he had, Aubrey hesitated. "I have exactly …. four." Aubrey denied any involvement in his sister's death, claiming repeatedly "I don't know nothin' about it."
All he remembered about the incident, he told officers, was "wrestling around with an older kid."
That would have been Kiai Lincoln, who tackled Aubrey after the shooting.
Lincoln was one of the witnesses who described Aubrey as mentally ill.
"He's not really not all there," Lincoln told investigators during a taped interview that was played in court Tuesday.
As a young child, on one night Aubrey hid under a bed all night next his older brother, who slowly bled to death from a gunshot wound. Their mother, Rachel, lay shot dead in the kitchen.
"He's had mental issues ever since then," Lincoln said.
Another witness, Henry "Hank" Alameda, heard the gunshot that killed Angel and saw the aftermath.
"I seen Angel lying on the ground. I saw Antone holding a shotgun. I seen him with that gun in his hands," Alameda said during a taped interview.
Alameda described Aubrey as "probably hurt in his mind, you know. He wasn't all there."
On Tuesday Deputy District Attorney Candace Myers wrapped up her case. Today defense attorney Russ Clanton is expected to call Paul Aubrey, brother of Angel and Antone, along with three doctors who evaluated Antone after his arrest.
Although he was initially declared mentally incompetent to stand trial, the 32-year-old Aubrey was ruled competent after being treated at Napa State Hospital.
Aubrey, in his orange jumpsuit, is sitting in the jury box during the trial. He, along with everyone else in the courtroom except the judge, is wearing a mask. He no longer resembles the gaunt, fierce-looking man in his booking photo. He is now chubby.
Angel Aubrey was 33 and a single mother of five.
###