PREVIOUSLY:

###
Now it's up to a jury to decide whether Marcia "Marci" Kitchen is guilty of running over and killing her daughter and another girl while driving drunk, and then fleeing the scene.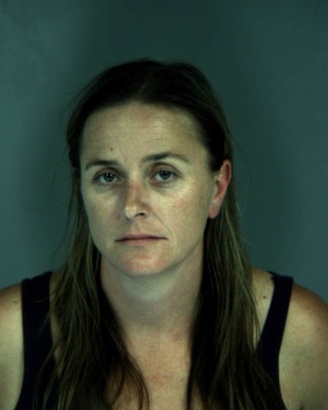 Today Judge John Feeney, at the end of a three-day preliminary hearing, held Kitchen to answer on charges of vehicular manslaughter, driving under the influence causing death, and special allegations of hit-and-run and harming multiple victims.

The ruling was issued this afternoon in a courtroom packed with both friends and family of the teen-age victims and supporters of Kitchen, 39.
Kitchen's arraignment on the charges is scheduled for May 25 before Judge Marilyn Miles. A trial date could be set at that time.
Kitchen allegedly was driving drunk the night of July 12 when her Jeep Wrangler struck Kiya Kitchen and Faith Tsarnas, both 14, as they were skateboarding on Eel River Drive. Tsarnas was killed instantly and Kiya Kitchen died the next morning.
Feeney, when issuing his ruling, didn't discuss specific evidence in Marci Kitchen's case but quoted the California judge's bench guide on the standard for holding a defendant to answer in a preliminary hearing.
The guide states the judge "must be convinced only of such a state of facts that would lead a reasonable person to believe and conscientiously entertain a strong suspicion of the defendant's guilt." The evidence need not be strong enough for a conviction.
Kitchen put up $750,000 in bail when she was originally arrested and remains free while she awaits trail.
Before the judge issued his ruling, defense attorney Patrik Griego simply argued there had not been sufficient evidence presented to hold his client to answer on any of the counts.
But Deputy District Attorney Stacey Eads said that not only was there "ample evidence" to support the charges, but after the collision Kitchen immediately started making up a story and even tried to persuade her own son to aid in a cover-up.
Eads noted that California Highway Patrol officers and Kitchen's son testified she was intoxicated after the teens were hit. The evidence indicates she was driving at a high rate of speed when the Jeep slammed into the girls, Eads said, given that "the distance these young ladies flew was extremely substantial."
Imprints of the girls' buttocks were found on the Jeep's bumper, and Tsarnas had imprints of letters and numbers from the license plate frame on the back of her legs.
Eads said if Kitchen hadn't been drunk and speeding, "she could have avoided the girls in the road."
"…She put herself and her own needs well ahead of the girls she left behind," she said.
That night as her daughter was being treated at Redwood Memorial Hospital in Fortuna, Kitchen never told law enforcement officers she was driving the vehicle that struck the girls. Eads said that was because Kitchen knew she was drunk, and she didn't want a field sobriety test conducted or a blood test taken.
According to earlier testimony, Kitchen believed she had hit a deer on Eel River Drive. She pulled over, looked back and saw nothing, so she drove her badly damaged Jeep the short distance to her home. She told officers she had consumed two drinks all day.
Probably the most damning testimony in the hearing came from Kitchen's 18-year-old son Jevin Kitchen. He testified that his mother arrived home intoxicated and asked for his help. He said she first asked him to get rid of a bag of marijuana in the Jeep. Then, he said, she put her keys in his hand and told him to drive the vehicle into a basketball hoop in the driveway so she could claim that's how the vehicle was damaged.
He said he refused.
Jevin said his mother told him she had collided with a deer or a pole. But her friend Trent Stewart, the passenger in the Jeep, said they had hit "two hoochies in bikinis."
Jevin also said that while they were at the hospital, his mother told him not to tell anyone what had happened.
While cross-examining Jevin this morning, defense attorney Ben Okin took issue with some of the teen's testimony.
Okin showed Jevin a photo of the basketball hoop, pointing out it was right next to the marijuana "grow room," and if you rammed into it you would hit the house. He said that made no sense.
"Yes," Jevin said. "That's why I said it was a stupid idea."
He had described Trent Stewart as a person with "head to toe" tattoos. But prosecutor Eads didn't dispute Stewart's testimony that he has one tattoo on his inner bicep.
Jevin admitted that testifying in court was the first time he had ever used the word "hoochies" in describing what Stewart said. At one point he had told CHP investigators that Stewart said they hit "two bimbos," but he wasn't even positive he had said that.
Today he said he was sure about the word "hoochies."
"That's something I really remember him saying," he said.
As to his mother telling him not to say anything about what had happened the night of the incident, Okin pointed out that when Jevin talked to investigators he said she didn't want him to say anything "because I want to tell your dad in my own way."
Although he now says his mother was apparently aware from the start that the Jeep had hit people, he initially told investigators he believed she "started to put the pieces together" about what she had done when she got to the accident scene. There she saw Faith lying dead and her daughter seriously injured.
Okln also asked whether Jevin's father had made him talk to the police.
"Yes," he said, "he said it was the best and right thing to do."
Under later questioning by Eads, Jevin said when he spoke with investigators "a little bit of me was still trying to protect my mom." But now, he said, "What's done is done" and he wants to do what's right.
"This is right," he said.
The teen said he is still trying to process the fact that his younger sister "isn't walking in the same hallways as me at school."
The accident, the Fortuna High School student said, "has changed my life drastically and horribly."
###
PREVIOUSLY