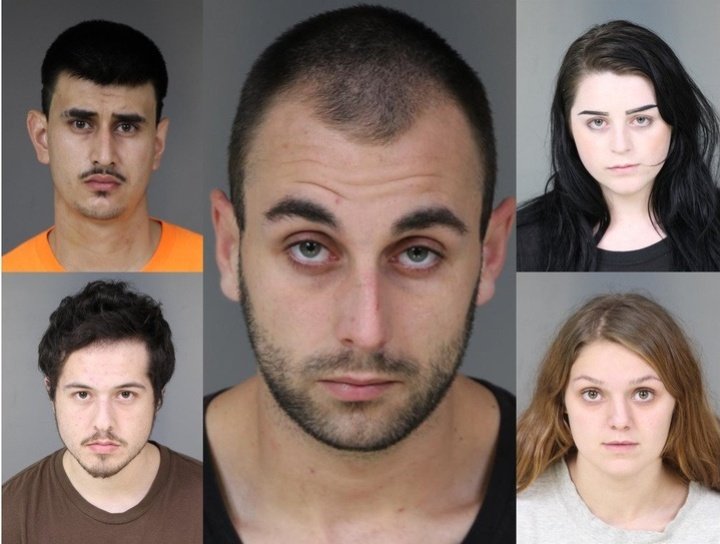 The case against five defendants in a December 2016 murder and carjacking just became simpler and yet a bit more complicated.

This morning Judge Christopher Wilson granted Deputy District Attorney Whitney Barnes' motion to join the jury trials of co-defendants Brandon James Mitchell and Tamara Nicole Thomson, two of five people arrested after Tyson Eduardo Claros was shot dead during a carjacking near Manila.
The benefits of one trial instead of two are obvious. But if one defendant has pointed a finger at the other, that evidence can't be used at trial.
Thomson was one of the first arrested and made a statement implicating herself, Mitchell, Catherine Suzanne Lynn Fode, Cesar Valenzuela-Campos and Hector Godoy-Standley. The prosecutor has agreed not to use Thomson's statement, but she plans to introduce others that haven't been specified. With the trial set to begin in a little over two weeks, the defense wants to know what those statements are.
That won't be easy. There are boxes and boxes of "jail mail" the inmates have sent and received since their incarceration 20 months ago. All the mail must be examined for potential incriminating information.
Deputy Conflict Counsel David Lee, representing Mitchell, told the judge Barnes advised him before court that "they don't have to tell us which ones they have in mind. We'll have to look through thousands and thousands of pages."
Attorney David Nims, Thomson's lawyer, echoed Lee's comments and said he didn't want to be sifting through letters while at the same time dealing with jury questionnaires.
Barnes said Lee had misunderstood, and she agreed to provide the anticipated evidence by Aug. 22, five days before trial is scheduled to begin. Wilson said it's likely he will grant a defense motion to continue so lawyers can review what Barnes provides and lodge any objections.
"I want the trial brief by Aug. 22 so statements the People are intending to offer can be indicated to the defense," Wilson said.
Originally all five were scheduled for trial together. Separate trials were set instead because of the complicated rules on the testimony of co-defendants.
The prosecution's main evidence will be testimony from Fode, now out of the loop after accepting a deal to admit voluntary manslaughter and testify against the other four.
Mitchell is the father of Fode's daughter, Godoy-Standley is her boyfriend and Thomson a close friend.
From previous testimony it appears Valenzuela-Campos, Thomson's boyfriend, was barely acquainted with the other three. But he allegedly was the person who pointed a gun at the woman driving the car Claros was in, telling her to "Get the fuck out of the car."
The driver of the car sat on the side of the road while Claros was shot and two people drove away in her car. She is the only eyewitness, although at the preliminary hearing she mistakenly identified Valenzuela-Campos as the shooter. Except for his dark hair, Valenzuela-Campos does not resemble Mitchell.
For now Valenzuela-Campos is still scheduled to be tried separately on Sept. 10. Godoy-Standley remains in limbo until a ruling is made on whether he is mentally competent for trial. A local psychiatrist diagnosed Godoy-Standley as developmentally disabled and he was sent to Napa State Hospital. Doctors there ruled him competent, a finding his attorney is contesting.
A hearing on that issue is scheduled for later this month.
According to what Thomson told sheriff's investigators, Fode and Mitchell believed Claros, 20, had molested their then 3-year-old daughter. Claros was investigated but never charged. It's alleged Mitchell was the shooter, with Valenzuela-Campos, Thomson and Godoy-Standley also packing handguns.
Fode and Thomson were just 18 at the time of the killing. All three men are in their 20s.
###
PREVIOUSLY: