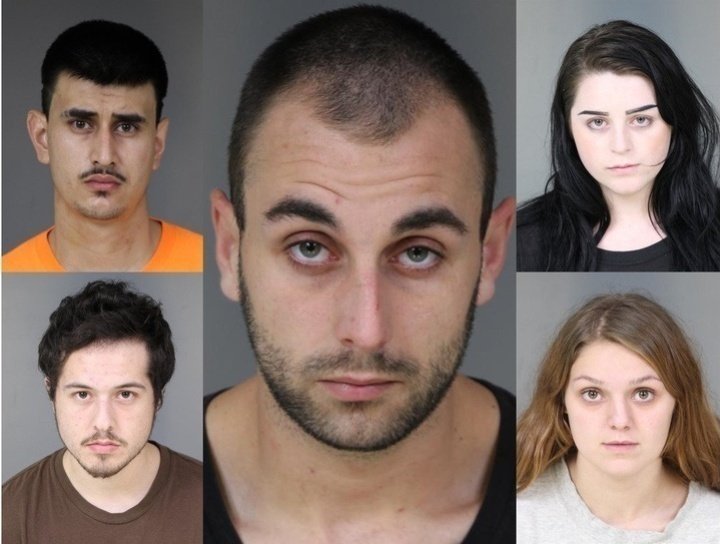 The trial of four defendants in a December 2016 murder and carjacking has just become three separate trials and may become four.
This morning visiting Judge Marjorie Carter granted defense motions to sever the case against Tamara Nicole Thomson, 19, and Cesar Octavio Valenzuela, 24, from the case against 22-year-old Brandon James Mitchell and Catherine Lynn Suzanne Fode, 19. And Fode and Mitchell's attorneys want them to be tried separately from one another, which is a motion the judge will rule on next month.
All are accused of killing 20-year-old Tyson Eduardo Claros, who Mitchell allegedly shot to death during a carjacking on state Highway 255 near Manila. Criminal proceedings were suspended against co-defendant Hector Godoy-Standley when it was found he is developmentally disabled.
At issue is a court rule that limits how much, if any, of a co-defendant's incriminating statement can be used during trial. Thomson and her boyfriend Valenzuela were caught first and confessed to investigators, implicating themselves and the other three. Mitchell later turned himself in, and Fode and her boyfriend Godoy-Standley were arrested last.
Deputy District Attorney Carolyn Schaffer told the judge this morning that the plan now "is to try Mr. Valenzuela on his own and Ms. Thomson on her own." The prosecution wants to try Fode and Mitchell together, but this morning their attorneys objected to that.
The problem is the pair's relationship, Fode's attorney Neal Sanders told the judge. The two have a young daughter together, and allegedly killed Claros because they believed he had molested the child. That allegation was never charged or proven.
Prosecutor Schaffer opposes trying Fode and Mitchell separately and will file a motion responding to Sanders' objection.
Claros was gunned down in the early morning hours of Dec. 12. He and a friend had agreed to give Thomson a ride from Eureka to McKinleyville, and near Manila Thomson allegedly produced a handgun and threatened them. When Claros' friend pulled her car over on Highway 255, the other four defendants reportedly drove up and jumped out of their car, all packing handguns.
Within seconds Claros had been shot several times and left dying in the roadway. His friend, the only eyewitness, watched from the roadside as the perpetrators drove off. Two of them took her car. The witness, identified during the preliminary hearing as Jane Doe, was able to identify Thomson from a Facebook photo. She named Valenzuela as the shooter, which the prosecutor said was a mistake.
Thomson told detectives she thought Claros was going to get beat up, not shot.
###
PREVIOUSLY: