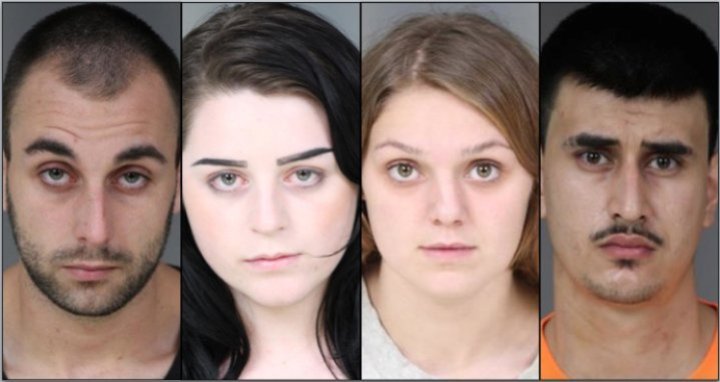 One of five suspects in a December 2016 murder and carjacking has pleaded guilty to voluntary manslaughter and will testify against her co-defendants.
This morning 19-year-old Catherine "Cadie" Suzanne Lynn Fode admitted to voluntary manslaughter and a special allegation that she participated in a crime in which a principal (alleged shooter Brandon James Mitchell) was armed with a firearm. She will be a prosecution witness in the three separate trials of Mitchell, Tamara Nicole Thomson and Cesar Valenzuela-Campos.
Fode could be sentenced to a maximum of 12 years in state prison, while the others are facing life behind bars if convicted.
Outside court this morning, Fode's attorney, Neal Sanders, said she is eligible for probation, but "sentencing is entirely up to the court."
Mitchell, Fode's former boyfriend and the father of her young daughter, also was in Judge Christopher Wilson's court this morning when she entered her plea. Wilson set Jan. 9 to discuss possible trial dates for Mitchell, 23. The same date has been set to talk about trial scheduling for Thomson, 19, and her boyfriend Valenzuela-Campos, 24.
Deputy District Attorney Carolyn Schaffer, prosecuting the case, told Wilson that two counts against Fode (murder and carjacking) will be dismissed when she is sentenced. That won't happen until she is finished co-operating with the prosecution.
The fifth suspect, 22-year-old Hector Godoy-Standley, was diagnosed as developmentally disabled and is expected to be transferred to a state hospital next month. He was Fode's boyfriend when the five allegedly participated in the carjacking on Highway 255. Mitchell is accused of shooting 20-year-old Tyson Eduardo Claros and leaving him to die on the road. Thomson and Valenzuela are also accused of packing guns during the incident.
Claros was killed because Fode and Mitchell believed he had molested their daughter, who was 3 years old at the time. Claros was investigated but never charged.
Claros' friend, who was driving the vehicle he was riding in, has testified they were giving Thomson a ride when she brandished a handgun and demanded they turn around. When she pulled over to argue with Thomson, the other four pulled up in another car. Within minutes Claros had been shot several times.
Thomson and Valenzuela-Campos then reportedly drove off in the woman's car, leaving her behind as an eye-witness. Fode, Mitchell and Godoy-Standley fled in another vehicle.
Both Thomson and Valenzuela-Campos were arrested later the same day and gave statements to sheriff's detectives implicating themselves and the others. Mitchell turned himself in a few days later, and Fode and Godoy-Standley were arrested shortly after.
###
PREVIOUSLY: