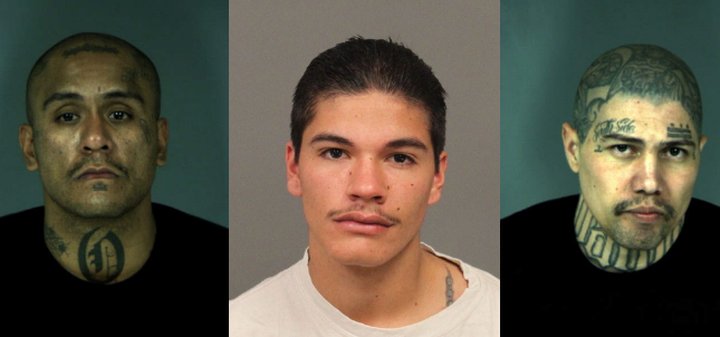 More than three years after 14-year-old Jesus Romero Garcia was found bleeding to death on a lawn in a Eureka neighborhood, the three men charged with his murder have admitted to less-serious charges and will be sentenced to state prison.

Today Mario Nuñez, Joe Daniel Olivo Jr. and Joe Daniel Olivo III pleaded guilty to voluntary manslaughter, with Nuñez and Olivo Jr. also admitting the killing was gang-related, and Olivo III pleading to personal use of a knife. As part of the plea agreement with the District Attorney's Office, Nuñez and Olivo Jr. will be sentenced to 16 years. The younger Olivo entered an "open" plea, meaning the length of the sentence will be up to the judge. But his attorney, Andrea Sullivan, said outside court that he faces a maximum of 12 years.
The three had been scheduled for trial on gang-related murder charges, and if convicted they could have been sentenced to life without possibility of parole.
Garcia died after being stabbed three times in the chest while he was hiding out in a P Street apartment, reportedly because he feared gang retaliation. He had made the mistake of telling people that Olivo III requested protective custody while in Juvenile Hall.
A former co-defendant, Nicholas Leigl, was taking the boy to a hospital but for some reason dropped him off on the way. He was found nearly dead on a lawn on 15th Street.
During three failed preliminary hearings held for Leigl, key witnesses either denied what they had told investigators or refused to testify at all.
Today in Judge Christopher Wilson's courtroom, all three men appeared relaxed and cheerful. Nuñez, 32, and Olivo Jr., 39, chatted and laughed in the jury box as they awaited the arrival of 20-year-old Olivo III. While Nuñez and the younger Olivo still resemble their mugshots, Olivo Jr. has gained weight and now wears glasses.
Both Nuñez and the older Olivo have a long history of gang involvement and imprisonment. Olivo III reportedly was "jumped" into a gang as a young child.
Members of Garcia's family were in the courtroom today and afterward left to speak privately with Deputy District Attorney Luke Bernthal, the prosecutor in the case.
Sentencing for Nuñez and Olivo Jr. is scheduled for Sept. 17. Olivo III is scheduled to be sentenced on Oct. 4.
Nuñez is represented by Arcata attorney David Celli, and Olivo Jr. by Crescent City attorney George Mavris.
###
Press release from the District Attorney's office:
Today, 39-year-old Joe Olivo Jr. and 32-year-old Mario Nunez pled guilty to charges of voluntary manslaughter committed in furtherance of a criminal gang. Both defendants will be sentenced on September 17, 2018, to 16 years in state prison. Twenty-year-old Joe Olivo III, a minor at the time of the incident, pled guilty to charges of voluntary manslaughter with personal use of a knife. He will be sentenced on October 4, 2018, to serve up to 12 years in prison.

These convictions hold the three defendants accountable for their roles in the death of 14-year-old Jesus Garcia-Romero, who was fatally stabbed on the night of December 16, 2014, in an apartment in the 700 block of P Street in Eureka.
###
PREVIOUSLY: