Jurors in the murder trial of Jon David Goldberg heard the beginning of closing arguments today, with most of the afternoon belonging to Deputy Public Defender Casey Russo.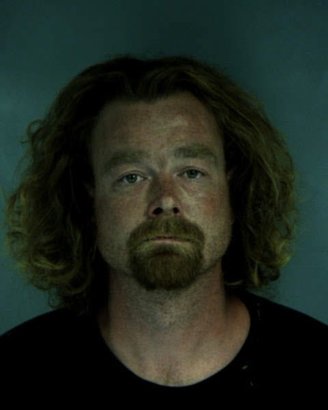 Deputy District Attorney Luke Bernthal made an approximately 30-minute statement, apparently saving his main argument for his rebuttal to Russo. Then Russo took the podium and spoke for an hour and 20 minutes before the judge called for a break. Russo, who may have been just warming up, is scheduled to resume tomorrow morning.
"The evidence in this case overwhelmingly points to first-degree, premeditated murder," Bernthal told the jury. He said Goldberg was planning the murder "as he drove down that long dirt road. Or maybe he made up his mind when he talks to Mr. Holub." (Chad Holub testified that Goldberg came to his house to use his phone, and said of shooting victim Timothy Smith that "I'm going to kill that motherfucker."
Goldberg was planning to kill Smith when he "cased' Smith's house before the shooting,' Bernthal said. But even if he made up his mind right before he fired the last of four fatal shots, that was premeditation.
Goldberg claims he didn't expect Smith to be there that day, Sept. 26. 2016. Smith's wife had told him she'd kicked Smith out of the house after learning he was having an affair with Goldberg's wife Rachel.
But, as Bernthal pointed out, Goldberg had driven by the house twice and saw Smith's pickup truck parked in front of his house. And Smith's wife Jessica Springer had sent him a second message saying she didn't know whether he would be home.
"Anybody would conclude that he was home," Bernthal said. And once Goldberg arrived, everything happened fast: "Pulling up and shooting Mr. Smith while he was standing in front of his house."
Goldberg also is charged with firing a gunshots around his wife earlier that day, and with brandishing his gun in an effort to "terrify her," Bernthal said. Although Goldberg is not charged with abusing Rachel, the prosecution contends he was an abuser.
Russo, during his argument, said the allegations involving Rachel Goldberg "are a complete and utter farce to cast a dark shadow over Jon and make him more convictable." He said the District Attorney's Office could have easily asked people who knew and worked with the Goldbergs whether they had ever seen any evidence of abuse.
Rachel Goldberg was called as a defense witness and denied ever being abused. She said she had never seen her husband with a gun, which was proven false.
Russo said the law enforcement investigation in the Goldberg case was "not even marginally competent."
He reserved his harshest criticism for the Fortuna Police Department. Smith's truck was not searched, even though his body was found right next to it. Goldberg contends Smith was reaching for a gun in his truck when he pulled his own gun.
Just the fact that the truck was never searched "is reasonable doubt in this case," Russo said.
He said Goldberg didn't go to Smith's house with any plan to kill him, but instead "reacted in self-defense caused by an unexpected and unwanted encounter" with Smith.
Goldberg has said he went to Smith's home on Rohnerville Road to speak with Smith's wife about what she knew about the affair.
When Goldberg arrived, Russo said, Smith reached for a firearm.
"Tim Smith reasonably but wrongly believed that Jon was there to cause him harm," Russo said. He said Smith reached into his truck for a gun, but then "diverted from that plan and lunged at Jon."
Goldberg says his revolver went off by accident when Smith grabbed his wrist.
Bernthal, in his argument, noted that was "the least" Smith could do to defend himself when Goldberg was pointing a gun at him.
And even if the first shot was an accident, Bernthal said, that doesn't explain four more shots to Smith's back.
Russo asked jurors today to put themselves in Goldberg's place, to try to remember a time when they'd suffered an immense loss, such as a sudden breakup or sudden death.
Goldberg is a simple man who puts family first, Russo said, and finding out his wife was having an affair was devastating. Not only because of his wife's betrayal, he said, but because he had come to think of Smith as a good friend.
During the couple of months before the killing, Smith had been coming up to hunt and hang out at the Goldbergs' property outside Bridgeville. Goldberg cooked dinner once for Smith and his youngest son. The day before the killing, Smith had taken the Goldberg family on a fishing trip.
Then Goldberg came to realize, Russo said, that the real reason Smith was coming around was to be close to Rachel.
Russo also asked the jury to consider the "elephant in the room," with the elephant being that Goldberg has been arrested and charged with murder.
"Let's be real," Russo said. "There is a cloud that hangs over you, having the government call you a murderer, having the government call you an abuser."
"I'm going to ask the elephant to leave the room — the weight of the tragedy of this event. In order for my client to have a fair trial, this has to be 'Did the DA prove their case?'"
Russo was scheduled to resume his argument tomorrow morning, and then the prosecution will present its rebuttal.
PREVIOUSLY: