Judge Christopher Wilson remembers both murder victim Jesus Romero Garcia and his killer, Joe Daniel Olivo III, from their days in Juvenile Court.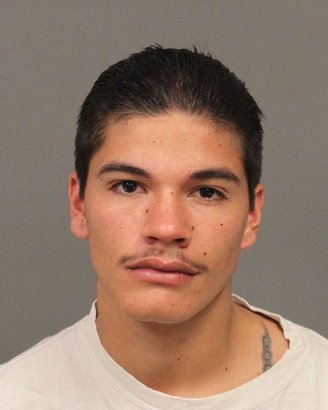 "I knew both of these young men," Wilson said this morning while sentencing Olivo III to 12 years in state prison for fatally stabbing the 14-year-old Garcia in December 2014. Wilson said Garcia and Olivo III both had potential, but they had something else in common.
"They glorified a gang lifestyle," the judge said, and that attitude led to one of them dead and the other behind bars for many years.
Olivo III had turned 17 just 10 days before he stabbed Garcia multiple times in the abdomen in an apparent act of gang revenge. Garcia had told people Olivo III requested protective custody while in Juvenile Hall.
This morning Deputy District Attorney Luke Bernthal said investigators concluded Garcia's hands and arms were held "while this defendant stabbed him."
Olivo III was accompanied during the killing by his gang-member father, Joe Daniel Olivo Jr., and Mario Nuñez. All three pleaded guilty to voluntary manslaughter, with Olivo Jr. and Nuñez sentenced last month to 16 years in prison.
As happened during the sentencing of the older two men, Garcia's sisters and cousin read letters castigating the killers and saying Garcia's death had changed their lives forever.
Lourdes Herrera, one of the sisters, said her brother "was no angel, but he had a chance to grow into a decent human being. … "We believe his young soul was far too beautiful for this cruel world."
Este Ramirez said Garcia "was my cousin and the only true friend I had." She was only 10 years old when he died, and the murder devastated her.
"I just lost all motivation for life," she said. But she's in high school and can turn her life around.
"Can you?" she asked Olivo III, who listened quietly to the statements. At times he appeared near tears, especially when his mother talked about how he had grown up with a father in prison.
The mother, glancing back at Garcia's mother, sisters and other relatives, said "I'm really sorry for the family."
During the hearing months ago on whether Olivo III would be tried as an adult, defense attorney Andrea Sullivan argued Olivo III was afraid of his father and couldn't refuse to do his bidding.
Even with his father in prison, Olivo III continued to commit crimes and violate probation.
This morning Judge Wilson, noting Olivo III and Garcia "were essentially just children when all this occurred," said he does believe Olivo III's crime "was induced by his father." But he said Olivo III had a predisposition for committing such acts.
Olivo III pleaded guilty to voluntary manslaughter and the special allegation of personally using a knife. The judge said he believes other special allegations could have been filed, but "this is a negotiated disposition and I'm going to honor it."
Olivo III told the probation officer who interviewed him that he didn't think he should be placed on probation and it would dishonor Garcia's family to ask for it. Wilson said the probation officer seemed to think this was a factor in Olivo III's favor
"I don't," Wilson said, adding that he believed Olivo III had just accurately summed up what his sentence should be.
Olivo III also claimed he acted alone and his father and Nuñez weren't there when he stabbed the boy. Wilson said that was not believable, because "obviously they were complicit."
Olivo III was given credit for 976 days served, plus 146 days for "good time."
Defendants convicted of violent felonies receive only 15 percent credit for good time.
PREVIOUSLY: