The murder charge against Lorna Jean Lean was dismissed this morning, and she was ordered released from the jail where she has spent the past six months.

Judge Gregory Elvine-Kreis, who heard two days of testimony in Leen's preliminary hearing, said he did research "late into the night" and could not find case law to justify holding Leen to answer on either of the prosecution's murder theories: implied malice or aiding and abetting.
Leen was charged with murder after Eureka teen Jane Doe, an eyewitness to the Aug. 9 stabbing of 16-year-old Brandon Brocious, said Leen held her back as Leen's son plunged a foot-long knife into Brocious' chest. Her son, 15-year-old Christopher Sterling, is being tried in Juvenile Court on charges of murder and personal use of a deadly weapon.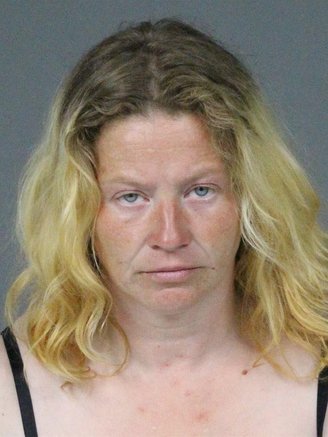 The stabbing occurred about 9 p.m. on Aug. 9 at Ocean View cemetery, where Leen and Sterling had been living in a camp in the nearby woods.
Elvine-Kreis, citing testimony during the hearing, said the stabbing took place "in the pitch dark" and up to 90 feet away from where Leen was holding onto Jane Doe.
"There's a huge problem with the ability to see," the judge said. He also noted that Brocious, Sterling and Jane Doe had been using drugs all that day.
"These three kids were under the influence of methamphetamine and marijuana," Elvine-Kreis said. It's clear a fight broke out, with Doe and Brocious angry about Sterling stealing Jane Doe's cellphone earlier in the day while she slept.
The judge said there was testimony about screaming, and "for some reason" Brocious took Sterling's backpack and told him he could have it when Doe got her phone back.
The judge indicated that didn't make sense, because it already had been agreed that Sterling's cousin Shane had the phone and was planning to return it. Leen had been trying to reach the cousin by phone to get Doe's cellphone back.
Leen told Eureka police detectives she grabbed Doe because Doe and Brocious were on top of her son, assaulting him.
"The action could have been done to protect Ms. Doe or to protect her son," Elvine-Kreis said.
The judge noted the prosecution argued that Leen holding onto Jane Doe was a "natural probable cause" of Brocious' death.
"There's no case law to support this," Elvine-Kreis said.
As for the aiding and abetting theory, the People needed to establish that Leen had an intent "to commit the specific offense."
After the judge issued his ruling, Brocious' mother hurried from the courtroom looking distraught. Brocious' father and stepfather both said they didn't want to comment at this time.
Leen was prosecuted by Deputy District Attorneys Roger Rees and Jessica Watson and represented by Deputy Public Defender Casey Russo.
###
PREVIOUSLY