Christopher Sterling swung his knife once at 16-year-old Brandon Brocious, an eyewitness testified Tuesday, and Brocious fell to the ground as he was trying to get away.

"Brandon started running, kind of," 15-year-old Jane Doe said under questioning by Deputy District Attorney Roger Rees. There was nothing in his hands, but Sterling was carrying a knife "with a wooden handle, kind of like a kitchen knife, and it was about that long (indicating with her hands about one foot.)"
Doe said Sterling, 15, had been packing the knife all day on Aug. 9, keeping it in his hand except when he sat down.
"He swung it at Brandon," Doe said. Sterling was angry because Brocious had taken his backpack and placed it inside his own backpack. He was going to keep it until Sterling returned Doe's cellphone, which Sterling had stolen earlier that day.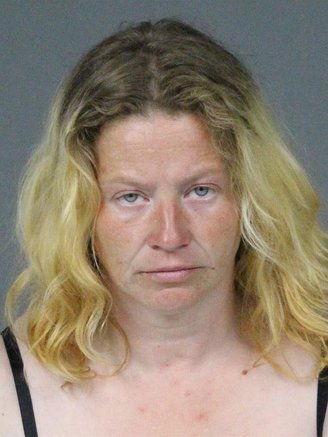 At one point Sterling told his mother, Lorna Leen, to "grab one of them." Doe said Leen grabbed her, pinning her arms hard enough that she had bruises later.
After Sterling struck out with the knife, Doe testified, Brocious told him "You can have your backpack."
"(Brocious) was walking backward and he tried to turn around to run. He fell."
As Brocious lay on the ground at Ocean View Cemetery, Sterling "stood over him and he swung his knife down."
"Where?" Rees asked.
"At his chest."
While this was happening, Doe said, Leen was still holding her by the arms. Doe said she told Leen "You're really going to let Chris do this? I know I can stop him."
Leen said nothing, Doe recalled, and didn't release her until Sterling removed the backpack from Brocious' body.
Then Leen told her son "Let's go," and asked him "What are you doing?"
The mother and son then took off, Doe said, running from the cemetery toward Broadway. As they fled, Leen turned around and said "Call 911."
Doe used Brandon's phone to call.
"I took my hoodie off and applied pressure to Brandon's chest," Doe recalled. She waited until she saw police cars at the cemetery gate.
"I hugged Brandon and got up and ran, because I wanted to tell my dad what happened before I got arrested."
"Why would you get arrested?" Rees asked.
"I had a juvenile warrant out."
Doe testified during the second day of Leen's preliminary hearing on a charge of murder. Although Leen's son is charged with being the stabber, she also is accused of homicide.
Under cross-examination by Deputy Public Defender Casey Russo, Doe said she was on the run at the time of the stabbing, living on the streets. She said that lifestyle was not uncommon for her. She had known Leen since she was about 11 years old because she'd had a sporadic relationship with her son over the years. Doe stayed with Leen sometimes and thought of her as someone who helped and protected her.
Leen herself was homeless, living in a camp near the cemetery.
Doe had broken up with the 15-year-old Sterling just four hours before she started a relationship with Brocious. They had been together three days when they awoke on Aug. 9 to find Doe's cellphone and other items missing. Sterling's brother, Jordan Sterling, told them Sterling had been there while they slept.
The rest of the day was spent trying to get the phone back. Part of the day they spent with Sterling, whom Doe said was packing the alleged murder weapon, in plain view, the entire time. Doe said she smoked methamphetamine four times that day and smoked marijuana once. Sterling told her he had given the phone to his cousin, whom they were unable to find.
Leen and her son had been living in a camp in the woods bordering the cemetery. Leen was sitting on a bench near a large mausoleum when Doe, Brocious and Sterling arrived. She was accompanied only by her dog, Doe recalled.
"There was no animosity between you and Ms. Leen? Russo asked.
"Correct."
"This was not a pre-arranged meeting."
"Correct."
Leen wasn't angry at Doe or Brocious, Doe said, and in fact was on her phone trying to arrange to get Doe's phone back.
Russo pointed out that Doe was relaxed enough at the time to tell the others she wanted to go the woods and "smoke a blunt."
But after Sterling realized Brocious had his backpack, the situation escalated.
"Do you remember Brandon screaming at Chris?"
"I don't recall that he did."
She also didn't recall that she was supposedly in Sterling's face, screaming about her phone.
Russo asked whether Brocious challenged Sterling to fight. Doe recalled Brocious saying "If you want to pull knives we can fight right now." Sterling already had a knife in his hand.
Russo suggested it was too dark, and the stabbing occurred too far away, for Doe to see details.
"I saw what happened," she insisted.
Russo also pointed out Brocious had a red bandana in his pocket, which indicates affiliation with the Norteño gang.
"That's not my business," Doe said. "It doesn't mean he's a violent person."
Another item in Brocious' pocket was a folding knife that was locked in an open position. There was no evidence presented that he ever pulled the knife.
EPD Detective Shawn Sopoaga, who attended Brocious' autopsy two days after he was killed, said pathologist Dr. Mark Super concluded he died from a stab wound to the upper left chest.
The weapon "went between his ribs and punctured his pulmonary artery, esophagus, and lung and hit the spine," Sopoaga testified under direct examination by the co-prosecutor, Deputy District Attorney Jessica Watson.
He also said the cemetery was not lit at night. The 911 call came in about 9 p.m.
"It was dark," the detective said.
Asked by Russo whether Brocious had "potentially toxic" levels of methamphetamine in his blood," Sopoaga said there was methamphetamine but he couldn't say it was at a toxic level.
When the detective interviewed Leen after her arrest, she first denied being at the cemetery or seeing her son that night. She later admitted she had been there with her son, but she presented a very different version of events.
"She said Jane Doe was assaulting her son so she grabbed Jane Doe off her son and held her," Sopoaga said. Leen said both Doe and Brocious were on top of Sterling, attacking him.
The detective said Leen told him that while holding on to Doe, she couldn't see what was going on with Brocious and her son.
"She turns around and sees Chris leaving," Sopoaga said. "She called out 'What happened?' and he said 'Sorry Mom, I love you' and ran off. And she ran after him."
He said Leen claimed she did not see her son with a knife.
EPD Senior Detective Ron Harpham testified Tuesday that he went to see Sterling in Juvenile Hall. He wanted to examine him for injuries "to prove or disprove whether self-defense might be an issue."
Harpham said he saw no injuries on Sterling. He did see bruises on Jane Doe's wrists and forearms, though he acknowledged that Doe claimed "a lot of these are from the cops."
Doe apparently was being difficult when brought in the first time for questioning.
Under cross-examination, Harpham estimated the distance from Brocious' body to the area where Leen was holding Doe at "closer to 90 feet." Previous estimates were 30 to 40 feet.
At the end of testimony, Rees asked Judge Gregory Elvine-Kreis to hold Leen to answer on a charge of murder. He said Leen acted with "implied malice."
"At the time the defendant grabbed Ms. Doe her son had a knife in his hand," Rees argued.
"There was nothing blocking her view … she grabs Ms. Doe to allow her son to attack Brandon alone. Her son was attacking someone with a knife."
Doe, "had she been unimpeded, could have stopped Chris from ever stabbing Brandon."
Russo argued he doesn't believe Leen had any idea a stabbing was going to occur at the cemetery.
"She had absolutely no motive," Russo said. "There was no prior conflict. The meeting was not planned. It was pitch-dark."
Russo said there is "no evidence she knew Brandon was going to be stabbed," and in fact Leen was attempting to mediate the conflict by trying to get Doe's phone back.
Elvine-Kreis is expected to issue a ruling this morning on whether Leen will be held to answer.
###
PREVIOUSLY