Someone's talking nonsense about the September 2017 murder of Alderpoint resident Robert "Bob" Holtsclaw.

On Monday afternoon a jury began discussing whether that person is suspect Zachary Cordell Harrison, or the close friend who says he watched Harrison take aim and fire from 40 feet away.

Before heading to the deliberation room, jurors heard closing arguments from Deputy District Attorney Adrian Kamada, who is confident Harrison will be found guilty of first-degree murder; and Deputy Public Defender Brie Bennett, who is confident the jury will find reasonable doubt.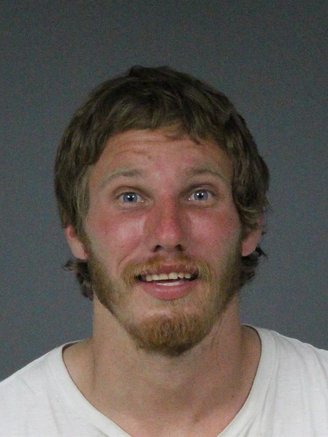 "You must have an abiding conviction so you won't have to worry about waking up in the middle of the night and wondering 'Did we convict an innocent man?'" Bennett told the jury.

Probably the main factor for jurors is whether to believe sole eyewitness Tory Hennings, who says he was climbing into Holtsclaw's truck when he saw Harrison standing across the street with a rifle.

Kamada reminded jurors that these events, in Hennings's recollection, happened almost simultaneously: "He saw Zach draw down, Robert Holtsclaw said 'Zach's got a gun,' he ducked behind Bob and Bob got shot."

Hennings ran to a neighbor's house and reported "Zach shot Bob. Call 911."

The neighbor confirmed that during trial. Another neighbor testified she saw Harrison's truck leaving the area immediately after she heard a single gunshot.

"I don't think there's any reason not to believe (Hennings)," Kamada said. "Why would he make this up?"

Bennett suggested Hennings may have wanted Harrison out of the way so he could have all the money from the marijuana he and Harrison had been growing. Harrison also claims Hennings had sex with his girlfriend, and even though the two had never discussed that, Hennings might have been afraid Harrison would eventually retaliate.

Hennings brother, Adam Hennings, is a volunteer firefighter in Alderpoint. Tory called him saying "Zach shot Bob," and Adam headed out to the crime scene on Sixth Street. In his rearview mirror he saw Harrison's truck, a black Ford pickup with Oregon license plates, parked in town.

He figured it was safe to drive to the scene, where he and others performed CPR on Holtsclaw for 45 minutes. That's when the ambulance crew arrived and pronounced the 58-year-old Holtsclaw dead. If Harrison was the shooter, it's unclear who he was firing at. Tory Hennings says he saw Harrison pointing the rifle at him.

Judge Kaleb Cockrum read jurors an unusual instruction on the law: "If the defendant intended to kill one person but by mistake or accident killed someone else instead, the crime, if any, is the same as if the intended person had been killed."

At this point Harrison yawned widely, which he did a couple of times when Kamada was presenting his argument.

Kamada reminded jurors he doesn't have to prove motive and said "I can't tell you why."

But he said there were two possible motives for Harrison killing Holtsclaw. First, a couple of months earlier, according to Harrison, he and Holtsclaw argued and Holtsclaw aimed a gun at him and threatened him. Second, Harrison told investigators Holtsclaw raped him.

Bennett questioned why Harrison would shoot someone in broad daylight and leave a witness behind. He could have waited until he found either man alone. Also, why would a killer hang around town for an hour after he committed his crime?

"Her basic argument," Kamada responded in his rebuttal argument, "is he didn't do it because he didn't act like a rational murderer … so him being bad at murder means he didn't do it?"

Bennett had suggested that Alderpoint, where much marijuana is grown, is a town unfriendly to the police. She said that's one reason Harrison may not have turned himself in for questioning. It's against the town "code," a code that says you avoid law enforcement "at all costs."

Kamada disagreed.

"The evidence is pretty freakin' clear that the community members there called law enforcement," he said.

About 90 minutes after the shooting, Harrison arrived at the store In Kettenpom. By then he had switched his front license plate for a California plate. The store owner said the license plate looked "altered."

It would be more than eight months before Harrison was finally arrested in the Walmart parking lot in Eureka. On March 21, 2018, he escaped from a trailer near the murder scene. According to one officer, Harrison came out of the trailer and acted as though he was going to follow commands.

Instead he took off on foot, disappearing into the woods.
The following day, he was spotted again.
"He stripped off his clothes and swam across the cold, swift Eel River in the middle of March," Kamada said. He contended Harrison's flight showed consciousness of guilt.
But Bennett said Harrison was frightened.
"He was scared," Bennett said. "It would be scary to be accused of something he didn't do. It would also be scary to be convicted of something he didn't do."
She said that in the eight to nine months Harrison was on the run, he could have gone to Canada or Mexico. Instead he was either in Oregon or around Alderpoint.
Near the spot where Hennings says Harrison was standing with a rifle, a pure copper 30-30 rifle cartridge was found on the ground. And when officers searched the trailer where Harrison had been hiding, six pure copper 30-30 rifle bullets were discovered under a chair cushion.
The murder weapon was never found.
Jurors were escorted to the deliberation room about 4:15 p.m. Monday. Their first duty was to choose a foreperson.
The jury was given instructions only on first-degree murder and second-degree murder. A manslaughter verdict is not an option. Harrison, 29, also is charged with the special allegation of murder with a personal use of a firearm.
Deliberations were scheduled to resume this morning.
###
PREVIOUSLY: