Murder suspect Zachary Cordell Harrison changed his story several times about where he was when Robert Holtsclaw was shot to death on Sixth Street in Alderpoint.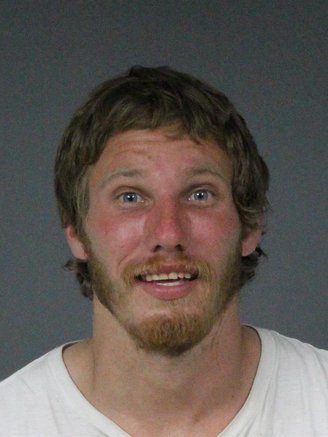 But Harrison was consistent on this: He wasn't the one who pulled the trigger.
"He denied it a dozen times, right?" Deputy Public Defender Brie Bennett asked sheriff's Investigator Mark Peterson, who interrogated Harrison for more than two hours the day he was caught after eight-plus months on the run.

"I believe that's a safe number," Peterson said.

In the mostly inaudible tape played for the jury today (jurors were given a written transcript) Harrison at first claimed he was in Oregon when Holtsclaw was killed on Sept. 23, 2017. He said he didn't know about the shooting until he saw it on television.

Peterson told him witnesses saw his truck in Alderpoint the day Holtsclaw died. Harrison then admitted he was at the crime scene but only to buy drugs. He didn't see Holtsclaw being shot.

He also had reason for a grudge against Holtsclaw.

"Did Robert rape you?" Peterson asked at one point.

"Yes."

Harrison said he'd known Holtsclaw for several years. Two or three months before the shooting, the two argued and, according to Harrison, "Mr. Holtsclaw threatened Mr. Harrison," Peterson testified.

"Why did you shoot him?" Peterson asked Harrison.

"Why would anybody shoot Robert?"

"You're the one."

"You think I shot Robert."

"I know the gun; I've got the bullet."

A 30-caliber copper, hollow-point bullet was removed from Holtsclaw's chest during an autopsy four days after he was killed.

Harrison admitted owning a number of firearms, but "I haven't had a 30-30."

Peterson accused Harrison of killing Holtsclaw because of the claimed sexual assault.

"That's why you killed Robert. You drove away in your truck. And I know the type of gun that you used."

Although a spent copper 30-30 rifle cartridge was found at the crime scene, and six copper 30-30 bullets were discovered in a trailer where Harrison had been hiding, the murder weapon was never found.

The only eyewitness in the case is Tory Hennings, whom Harrison described as his best friend. Hennings has testified that when Holtsclaw dropped him off outside his home on Sixth Street Harrison was there. Harrison first pointed the gun at him, then fired at Holtsclaw, Hennings told law enforcement.

Asked about why Hennings would name him as the killer, Harrison said he and Hennings had been growing marijuana together and Hennings wanted all the money.

Harrison also said Hennings had been having sex with Harrison's girlfriend, who is also the mother of his child.

Anyone else who implicated him, such as saying they'd seen his truck in the area, "didn't like him for various reasons," Peterson testified.

The investigator was the last prosecution witness called by Deputy District Adrian Kamada, who wrapped up his case against Harrison on Friday afternoon. Bennett is expected to begin her case Monday morning.

There were some twists and turns Friday, with Bennett at one point making a motion for new trial because Peterson said the word "illegal" when referring to guns Harrison said he owned. The word "illegal" had been accidentally left in the written transcript of the taped interrogation of Harrison.

Cockrum immediately told the jury to disregard "illegal."

Outside the jury's presence, Cockrum denied the motion for new trial.

"I'm disappointed. I'm more than disappointed. I'm angry," the judge said about the word making its way into the record.

But given the totality of the evidence, jurors "have a lot to focus on."

At another point Friday afternoon, jurors were excused from the courtroom while Bennett and Harrison discussed privately whether he should take the stand. No announcement was made on whether that will happen.

Jurors will be back Monday morning to hear any defense testimony. Then it's expected attorneys will present closing arguments, and the case will go to the jury for deliberation.
# # #