A Eureka man accused of slashing the neck of an Arcata Co-op shopper is scheduled for jury trial in July.

This morning Judge Timothy Canning set a July 8 trial date for Justin Derrick Crumbley, charged with premeditated attempted murder, assault with a deadly weapon and personally inflicting great bodily injury. Crumbley, 34, has pleaded not guilty and not guilty by reason of insanity to the November 2016 attack on Stephen Paul Sottong.
Sottong, a local author, was stabbed in the neck as he walked out of the Co-op carrying his groceries. He underwent surgery and was hospitalized for two weeks.
Crumbley, a stranger to Sottong, was arrested by Arcata police shortly after the attack. He was found hiding in a nearby apartment building.
Initially Crumbley was found mentally incompetent to stand trial and was sent to Napa State Hospital for treatment. After doctors there ruled him competent, he was returned to Humboldt County to face charges.
He has been in custody, either locally or in Napa, for two years and seven months.
Because Crumbley has pleaded not guilty and not guilty by reason of insanity, the jury will first have to decide whether he committed the attempted murder. If he is convicted, the same jury would determine whether he was legally insane at the time.
Two doctors have evaluated Crumbley and will testify at trial.
Crumbley is represented by Deputy Conflict Counsel Owen Tipps, who recently took over the case from an attorney who left that office. Deputy District Attorney Luke Bernthal is the prosecutor.
PREVIOUSLY:
###
In other court news, a Dinsmore teen charged with murdering his former foster father is set for trial in January.
This week Judge John Feeney scheduled a Jan. 13 jury trial for 18-year-old Duane Dean Gillespie, charged with shooting Richard Dennis Falk to death on Oct. 5, 2017. Gillespie, who had once been Falk's foster son, allegedly drove to Falk's rural home near Dinsmore and shot him four times with a rifle.
According to testimony in the preliminary hearing, Gillespie then rifled through the dead man's clothing and stole his wallet, credit cards and car keys. He allegedly used the keys to steal Falk's Jeep. He also is charged with taking money and firearms he found in Falk's home.
Gillespie and his then-girlfriend, who testified against him at the hearing, then reportedly drove to the coast and used Falk's credit cards at several local ATM machines. He was able to withdraw more than $1,100 in cash from Falk's accounts.
Three weeks before the 68-year-old Falk was killed, Gillespie allegedly stole a cellphone, purse and a Dodge minivan from his former foster mother in Arcata. He and his girlfriend camped in the van for a couple of weeks until they replaced it with Falk's Jeep.
Gillespie was 17 at the time of the killing but is being tried as an adult. He is represented by Deputy Public Defender Ben McLaughlin, while Deputy District Attorney Roger Rees is prosecuting the case.
###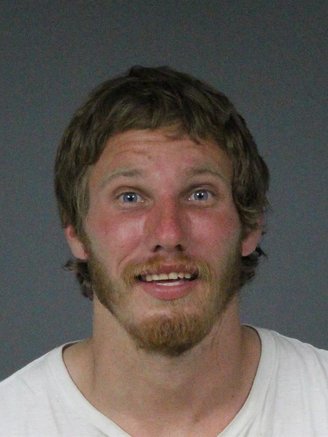 In another murder case from the fall of 2017, one-time fugitive Zachary Cordell Harrison has been scheduled for trial in September.
The 28-year-old Harrison is charged with first-degree murder in the death of Robert James Holtsclaw, an Alderpoint resident who was sitting in his pickup truck when Harrison allegedly shot him with a rifle. Holtsclaw, 58, had just returned from a horseshoe tournament and was dropping off his friend Tory Hennings when he was killed.
Hennings, who testified during Harrison's preliminary hearing, said Harrison first pointed the rifle at him and then fired at Holtsclaw. The bullet passed through Holtsclaw's arm and into his chest.
Harrison, despite an intense manhunt, hid out in Southern Humboldt for nine months before being caught in a Eureka parking lot.
Judge John Feeney scheduled Harrison's jury trial for Sept. 16. He is represented by Deputy Public Defender Brie Bennett. Deputy District Attorney Joel Buckingham is the prosecutor.
PREVIOUSLY