The life of Alderpoint resident Robert James Holtsclaw was ended by a high-velocity bullet designed to cause maximum damage, according to testimony today in the trial of the man charged with his murder.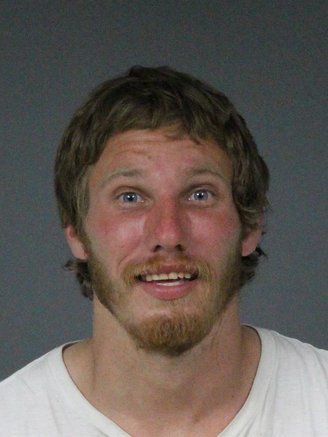 The 30-caliber rifle bullet entered the outside of Holtsclaw's upper left arm, passed through the arm and shattered the bone, then entered his upper left chest.
"It missed the lungs, grazed the heart, tore one of the main coronary arteries and stopped in the right chest wall," Dr. Mark Super testified today during the trial of suspect Zachary Cordell Harrison. Super, a forensic pathologist who has performed more than 12,000 autopsies, examined Holtsclaw's body four days after he was killed.
He said the bullet he removed from Holtsclaw's chest was unique in his experience.
"This is the only time in 35 years that I've seen this ammunition," Super testified. According to another prosecution witness, the bullet was pure copper with a hollow point.
Deputy Public Defender Brie Bennett, cross-examining the doctor, asked if he was able to determine who fired the fatal bullet.
"No."
"Were you able to tell who killed Mr. Holtsclaw?"
"No."
A spent 30-30 rifle cartridge was found near where the 58-year-old Holtsclaw was shot. According to Department of Justice Criminalist Dale Cloutier, who also testified today, the cartridge was most likely from a pure copper bullet with a hollow point.
Cloutier said copper bullets are superior to bullets that are jacketed with copper but contain a lead core. The lead bullets can break apart when they hit their target. And hollow-pointed bullets tend to cause more damage than regular bullets.
"Hollow points are designed so when they hit water (people's bodies are made partially of water) it causes the hollow point to open," Cloutier said. He said this causes a wider wound track, and the bullet tends to "stop in the body and cause more damage."
Today the jury saw autopsy photos, including one depicting the nose of the bullet as Super removed it from Holtsclaw's chest. The end of the bullet had spread out in a pattern similar to the petals of a flower.
Six copper 30-30 bullets were found in a trailer Harrison had been hiding in during his months as a fugitive. The bullets were discovered under the cushion of a dining room chair.
Eyewitness Tory Hennings, the only person who witnessed the shooting, testified Harrison fired a rifle at Holtsclaw as he sat in his truck. Holtsclaw and Hennings had just returned from a horseshoe tournament, and Holtsclaw was dropping Hennings off at his home on Sixth Street in Alderpoint. Today had been scheduled as the last day of testimony in the trial, with the lead investigator taking the stand. Instead the jury was dismissed immediately after reporting for the afternoon session. Jurors were asked to return tomorrow afternoon.
Judge Kaleb Cockrum apologized for the delay and said he still expects the case to go to the jury on Monday.
Harrison, normally seen in his orange jail jumpsuit, is dressed in a button-down shirt and black dress slacks for trial. Unlike most inmates who've spent many months eating their meals at Humboldt County Correctional Facility, Harrison is quite thin. He is clean-shaven and his hair is in a crewcut.
And he is no longer smiling.
PREVIOUSLY: