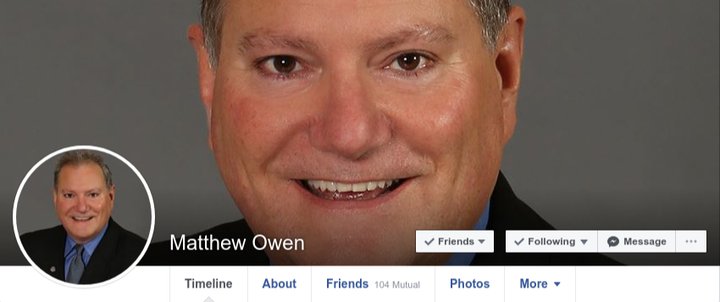 ###
The Outpost has learned that Matthew Owen — a former Outpost columnist, by way of full disclosure — will seek the soon-to-be-open Eureka City Council seat for the Fourth Ward in the November election.
Eureka City Clerk Pam Powell confirmed this morning that Owen has submitted his nomination papers, and said that the county is currently verifying the signatures of his nominators.
Owen, the husband of Fourth District Supervisor Virginia Bass, is a loan officer with Tri-Counties Bank. He is a former president of the Rotary Club of Eureka, and an associate member of the Humboldt County Democratic Central Committee.
Reached this afternoon, Owen mentioned three planks of his platform. He wants to install automatic license plate readers on all Eureka Police Department patrol vehicles, he wants to see the city do better in helping small businesses adapt to the coronavirus, and he wants to know what plans the city has for all the vacant land that is in its possession.
"The largest owner of vacant lots in the city of Eureka is the city of Eureka," Owen said. "I want to know what the plan is to develop these lots, especially for housing."
Assuming they both qualify, Owen will face county planner Liza Welsh, with other candidates still possible. The deadline for nominations for local office is tomorrow, but that will be extended another week in the event that the incumbents in those seats do not file for reelection. Eureka City Council incumbents Heidi Messner and Austin Allison are not expected to seek another term in office.
[CORRECTION: That bit about the deadline extension in the case of no incumbents running for reelection doesn't apply in this case, as both Allison and Messner are not qualified to run again. They no longer live in the wards to which they were elected.]
Owen — who famously paints himself as a "middle-of-the-road"er, politically — previously flirted with a City Council run in 2016, but later dropped out to make way for Messner.
PREVIOUSLY: