A jury began deliberating yesterday afternoon on whether David Alan Kobak committed murder when he shot his longtime friend Fred Loftus eight times during an argument in Kobak's apartment in Eureka.
Jurors were led to the deliberation room at 3:20 p.m. after hearing closing arguments from Deputy District Attorney Whitney Timm and Deputy Public Defender Casey Russo. Timm made a case for first-degree murder, while Russo argued Kobak shot Loftus in self-defense.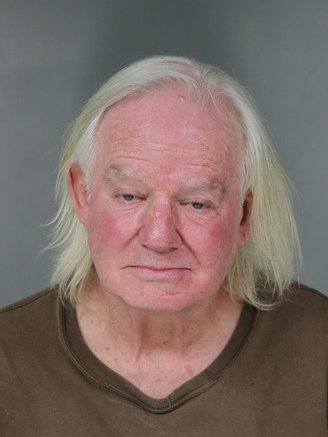 Kobak, 75 years old at the time of the killing in August 2017, testified during the trial that he has vague memories of the shooting and no memory of his interview with a Eureka police detective.
During the interview Kobak confessed repeatedly to killing Loftus, who had been his friend for 30 years.
"If he didn't intend to kill Mr. Loftus he wouldn't have used a firearm," prosecutor Timm told the jury during her argument. "He fired it 10 times at a human being … there's no question he acted with the intent to kill."
Kobak told EPD Senior Detective Ron Harpham that Loftus, during a drunken quarrel that started when Kobak was cooking their dinner, became angry and hit Kobak at least twice in the face.
Kobak said he went to his bedroom, got his fully loaded rifle and began firing when Loftus "started giving me some shit."
"When he left the kitchen he was going to get his gun," Timm said. "When he came back he had already decided to kill Mr. Loftus … the entire time he walked from the kitchen to his bedroom he had murder on his mind."
Although Kobak claims he was struck at least twice in the face, photos show no injuries at all. Nor were there any injuries on Loftus's hands or knuckles.
Timm said there was no evidence this was a "knock-down drag-out fight."
"Why wouldn't the house be in shambles?''
Kobak was calm the entire time, Timm said. After he shot Loftus he turned off the kitchen stove, put his gun away and called 911.
"On the 911 call his voice was calm," she argued. "When he talked to Detective Harpham he was calm."
The prosecutor said the average person would not have acted with "extreme force" during the argument in Kobak's apartment. She said the average person would have considered other options.
"They would have walked out the door. They would have gone to their bedroom. They would have said 'Fred get the heck out of the house.' What they would not have done is kill their friend."
When Kobak testified during the trial Kobak displayed "selective memory," she said, leaving out the parts that were incriminating.
Russo, during his closing argument, described Kobak as a 77-year-old retired fisherman "with a character for peacefulness and nonviolence," living a simple life in his tidy apartment on Seventh Street. Kobak was possibly an alcoholic and definitely a chronic heavy drinker, Russo said, but prior to Aug. 25, 2017, "he had never drawn a weapon on another person in his life."
Loftus and Kobak had been drinking all day at Ernie's bar in Eureka, "and they were likely very drunk," Russo told the jury.
He suggested Loftus — as evidenced by threatening texts he sent Kobak a couple of weeks before the killing — may have come to Eureka harboring some unresolved resentment toward Kobak.
At any rate, Russo said, during the argument Loftus "hit my client multiple times and (Kobak) blacked out at some point."
Russo said it was ridiculous to claim the mild-mannered Kobak "got mad at Fred during a petty argument out of the blue and shot Fred in cold blood."
What actually happened, Russo contended, was Loftus assaulted Kobak and threatened to "kick his ass." That would have been no contest, he said, because Loftus was 16 years younger than Kobak and outweighed him by at least 40 pounds.
"(Loftus) lost control and started verbally and then physically assaulting a 75-year-old man in his own little apartment," Russo told the jury. "He needed to defend himself from significant harm. The gun he brought out was used in a legitimate act of self-defense."
When Kobak testified "he was truthful about what he remembers," Russo said. "They (the prosecution) want you to use what he said back then (to Harpham.) That's the thing you've got to hang your hat on."
During the interview with the detective, Russo argued, Kobak was still drunk. He also had just suffered "a sudden assault by Mr. Loftus," was in shock and had never been interrogated before. Kobak was experiencing "confusion, despair, sadness," Russo said.
He pointed out that in the videotaped interview with the detective, Kobak repeatedly said "I think, I don't remember, I don't know."
Kobak never once said he had any intent to kill or harm his friend, Russo said.
He reminded jurors that under the law, "if there is a reasonable conclusion that my client acted in self-defense," you have to find him not guilty."
In her rebuttal argument, Timm said Russo's claims are not based on evidence but speculation. For example, Russo suggested Loftus may have been having problems that made him angry and caused him to over-react.
"None of these things are relevant," she said. "A human being lost his life."
Timm showed the jury a videotape of Loftus, not long before he was killed, buying a bottle of liquor at a liquor store. The surveillance video shows Loftus at the counter, acting normal.
"That's just 40 minutes before Mr. Loftus was murdered," Timm said. "He was not out-of-his-mind drunk."
The prosecutor said there's no doubt "this murder was an intentional act. Kobak fired 10 shots, she said, eight bullets hit Loftus "and four of them were in his back."
"There's absolutely no question that if you shoot someone 10 times you intend to kill them."
She ended her argument by saying Kobak shot the first time "and saw his friend experience the trauma of a gunshot."
"And then BANG BANG BANG BANG BANG BANG BANG BANG BANG."
Jurors have been given the options of acquittal or first-degree murder, second-degree murder or voluntary manslaughter.
Involuntary manslaughter is not an option.
###