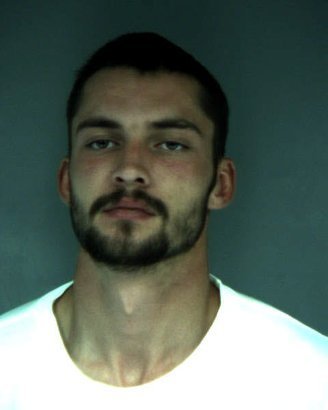 Eureka resident Maxx Carson Robison was sentenced this morning to 23 years to life in prison for the June 2016 murder of 19-year-old Rihanna Skye McKenzie.

Judge Christopher Wilson also sentenced Robison, 24, to nine years for the attempted murder of McKenzie's boyfriend Elisha Mansell, but that term will run concurrently with the life term. And Robison received three additional years for a weapons allegation.
Robison was 20 when, after arguing with Mansell over a drug deal, he went home and got a high-powered rifle. He drove back to McCullens Motel, where Mansell and McKenzie were staying, and opened fire on Mansell's car. The couple, though it was about 3 a.m., were sitting inside the vehicle.
During the sentencing, defense expert Martin Williams said Robison had been drinking and taking drugs that night and had been searching for opioids. Williams, a psychologist, said Robison had a lifelong problem with substance abuse. But Robison is now clean, sober and highly committed to becoming a better person. In fact Williams was so impressed with Robison, he said talking with him "was unlike talking to any criminal defendant I have ever talked to."
He described Robison as "a very unusual person (who acknowledged) this crime was caused by him and was caused be no-one else."
Williams, under questioning by defense attorney Russ Clanton, said if Robison were set free today, the risk of him reoffending would be "extremely low."
Robison was in court today, masked and sitting in a chair wrapped in plastic. Last week he demanded his right to be in the courtroom during sentencing, rather than appearing on video because of the Covid 19 pandemic. Robison read a statement expressing his remorse, but he had no microphone so the statement was pretty much inaudible on You Tube.
Afterward, Deputy District Attorney Roger Rees, appearing on video, told Robison he had one question for him.
"Mr. Mansell fired a gun (during his argument with Robison) and you left the scene. Why did you go back?"
Robinson said something, but apparently it was a weak explanation.
"For four years, thinking about this, you don't have an answer as to why you went back," Rees said.
Rees read two letters addressed to the judge. One was from McKenzie's uncle, Frank Toste, and one was from her father, Jeff McKenzie.
"She was 19 years old when she was gunned down by Mr. Robison," Toste wrote. He said the family was close-knit and "We will miss her."
He and Jeff McKenzie asked for the harshest possible punishment for Robison.
"He claimed he was firing at an unoccupied car, which I don't believe," the father stated in his letter. "He has taken so much me from me I can't express it … may he never see the light of day again."
Robison's mother, Tracine Dorner, appeared by video to ask for leniency. She said her son suffered from substance abuse and the shooting was "a tragic crime."
Rees disagreed, saying "It was not a tragic crime; it was murder."
Prior to committing murder and attempted murder four years ago, Robison had no criminal record.
###
CORRECTION: This article originally misstated Robison's sentence by a couple of years. It has been corrected.
# # #
PREVIOUSLY