Lowdown: The Argument For Creamery Fest

"Humboldt's Most Packed Week Ever" begins its two day end-o'-week peak Friday with the Creamery Festival, three days devoted to spreading the gospel of artsy community. City leaders have big plans for the neighborhood surrounding Arcata's Old Creamery building and this weekend just may set the tone for the future. Let your Lowdown breakdown the ambitious day-by-day highlights below:
Friday: There's been lots of lantern construction locally lately. The reason for that will become clear Friday night with Elemental: An Outdoor Pageant Spectacle, which includes a procession of giant puppets, stilt walkers and humongous shadow performance. Also, local one man symphony Gregg Moore will provide a live score during a screening of Buster Keaton's The General. Oh, and then Ponche. That'll be good.
Saturday: Creamery Fest's most packed day includes double digit band-age on two stages (full schedule) as well as general festival boothiness and kid friendliness. The night concludes with a special performance under the big top tent by beloved violinist and Humboldt-native Jenny Scheinman and The Tiptons. Later, Los Angeles sketch comedy troupe Wet the Hippo makes with the funny, as if HumCo needed more this weekend.
Sunday: Festivities wrap up on the Sabbath with a morning performances by the Arcata Interfaith Gospel Choir and world famous Scotia Band. In the afternoon, hit up the Big Top Vaudeville Variety Show. Then collapse.
-Andrew Goff
The Lowdown Fun Committee
Larry Likes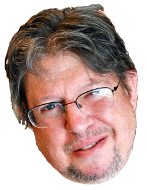 Events
Creamery Festival
Arcata Playhouse / 8 p.m.
Arcata's historic Creamery district comes to life with pageantry, performance and people. Three day event eatures violinist Jenny Schienman and sax quartet The Tiptons, salsa band Ponche', outdoor showing of Buster Keaton's "The General" with a live score by Gregg Moore and Vaudeville variety show.
822-1575 / david@arcataplayhouse.com / Web site / View Comments
Movie Showtimes
Broadway Cinema
2 GUNS: 1:25, 4:05, 6:35, 9:20
CONJURING: 9:30
DESPICABLE ME 2 2D: 1:50, 4:20
ELYSIUM: 12:05, 2:40, 5:30, 8:15
JOBS: 12:20, 3:10, 6:40
KICK-ASS 2: 1:55, 4:30, 7:05, 9:40
LEE DANIELS THE BUTLER: 12:00, 3:00, 6:05, 9:05
MORTAL INSTRUMENTS: CITY OF BONES: 11:50, 2:50, 5:50, 8:50
PARANOIA: 6:50, 9:25
PERCY JACKSON: SEA OF MONSTERS 2D: 12:10
PERCY JACKSON: SEA OF MONSTERS 3D: 2:45
PLANES 2D: 11:55, 2:20, 4:40, 7:00
THE WORLD S END: 12:45, 3:30, 6:15, 9:00, 9:30
WE RE THE MILLERS: 1:00, 3:45, 6:30, 9:15
WOLVERINE 2D: 5:25, 8:25
YOU RE NEXT: 1:30, 3:55, 6:20, 8:45
Mill Creek Cinema
ELYSIUM: 1:10, 3:50, 6:30, 9:05
JOBS: 3:15, 8:40
KICK-ASS 2: 1:20, 4:00, 6:40, 9:20
LEE DANIELS THE BUTLER: 12:00, 3:00, 6:00, 9:00
MORTAL INSTRUMENTS: CITY OF BONES: 11:50, 2:50, 5:50, 8:50
PARANOIA: 9:15
PERCY JACKSON: SEA OF MONSTERS 2D: 12:40, 6:05
PLANES 2D: 11:55, 2:20, 4:40, 7:00
WE RE THE MILLERS: 1:30, 4:10, 6:50, 9:30
YOU RE NEXT: 12:00, 2:25, 4:50, 7:15, 9:40
Minor Theatre
BLUE JASMINE: 4:15, 6:45, 9:15
ELYSIUM: 3:30, 6:10, 8:45
JOBS: 3:40, 6:20, 9:00