An eyewitness to the Dec. 12 slaying of a 20-year-old Eureka man has identified the shooter as Cesar Octavio Valenzuela, who is not the person charged with pulling the trigger.

Yesterday in a preliminary hearing before Judge Marilyn Miles, "Jane Doe" — the only eyewitness to the crime — pointed out Valenzuela as the man who shot her friend Tyson Eduardo Claros at close range during a carjacking on state Highway 255. Claros died shortly afterward.

Valenzuela, his girlfriend Tamara Nicole Thomson, Catherine Suzanne Lynn Fode, Hector Godoy-Standley and Brandon James Mitchell are all charged with murder and carjacking. But it is Mitchell who is accused of personally discharging a firearm. Both Valenzuela and Thomson, who were arrested first, admitted their involvement and named Mitchell as the shooter.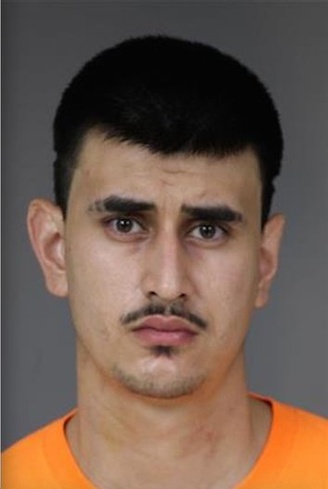 During about five hours of questioning by Deputy District Attorney Brie Bennett and five defense attorneys, Doe revealed what she says happened between about midnight Dec. 11 and 2 a.m. Dec. 12.

Doe, a close friend of Claros since high school, said she got off work about 11:30 p.m. and picked up Claros. They decided to drive from Eureka to Centerville Beach near Ferndale to do some "star-gazing," though it was a cloudy night. They had only been there about 15 minutes when Claros got a call.
"He said 'This person hasn't called me in awhile, what the heck' " Doe said.
Claros told her the caller was Tamara, and Tamara wanted to be picked up in Highland Park and taken to the Myrtletown area. Doe agreed, even though she had no idea who Tamara was, "because we were going to Eureka anyway."
They didn't find Tamara at Highland Park but eventually picked her up outside Zoe Barnum school. By this time it was after 1 a.m. Doe said Tamara was wearing tight blue jeans and a short-sleeved top and was carrying no purse or backpack. This became an issue during questioning, as attorneys wondered where she was concealing the handgun that she reportedly brandished later.
Doe said Tamara, riding in the backseat, changed her mind about going to Myrtletown and asked to be taken to McKinleyville instead. She had offered $20 to pay for gas. She wanted to take back roads "because there were too many cops on the freeway."
Tamara apparently was nervous, asking Doe whether she had a valid driver's license. And with every car that passed, she would say "Is that a cop? Is that a cop? Is that a cop?"
"Tyson assured her that nothing was going to happen, that I was a good driver," Doe said.
Doe drove her beat-up Honda sedan over the Samoa Bridge, then turned right toward Arcata. During the drive over the bridge Claros and Tamara were having a friendly conversation and smoking some pot together. But then Tamara became agitated, insisting that Doe turn around and go back to a side road they had just passed. Doe pulled over and told Tamara she was taking her to McKinleyville, as requested, and if she objected she could get out and walk.
That's when Tamara pulled out a handgun, Doe said, and pointed it toward her and Claros.
"She said she was going to put lead through both our heads," Doe recalled.
At that point, neither Doe nor Claros took the threat that seriously.
"He looked back and said 'Do you really have to do this right now? I don't want any problems.' "
Doe said Tamara was shaking in apparent fear and the gun was waving back and forth. She kept looking out the back window. Then a car pulled up right behind Doe's car, the bright lights shining. Several people piled out and ran up to Doe's car. One of them, who she identified as Valenzuela, ran up to her yelling "Get the fuck out of the car.' "
Instead she just grabbed her phone and looked down, because the driver's side door was broken and she couldn't open it. She said Valenzuela yanked on the door until he broke the rope she'd been using to tie it shut. He was carrying the "exact same" type of gun Tamara had, she said, and it was right in her face.
In the meantime, someone else had opened the door to the passenger side, where Claros was sitting.
Doe said she started walking across the road, still confused about what was happening, thinking maybe these people just wanted to steal her car. Then she heard gunshots. She looked over and heard Claros ask what was going on. Then, though she could only see the top half of his head, she saw him get out of the car and stumble.
Doe was sitting in the grass along the roadside. She watched as Claros walked toward the back of her car. Then he was facing another man who stood about a foot from him.
"I saw the bullets leave his gun and go straight into Tyson," Doe said. She said there were four shots.
"His shoulders went back and then he just dropped, and then he started to crawl toward me," she said. Claros was crawling "army-style, on his elbows." It was at that point she noticed he had something in his hands: vice-grips, a tool he had apparently picked up from the passenger side floor of her car.
Doe said the shooter was Valenzuela, the same person who ordered her out of the car. But, as Valenzuela's attorney Casey Russo pointed out, shortly after the shooting she told investigators the shooter was someone different, someone she didn't recognize. She now believes the killer was about her height, 5 feet 11 inches. Valenzuela is tall. But she initially estimated the killer's height at 5 feet 5 inches to 5 feet 8 inches, which would fit Mitchell.
Doe said the man who came to her car window was wearing distinctive blue "Rock Revival" jeans and a short-sleeved black T-shirt. When she initially described the shooter she described him as all in black, including a black hoodie. After the shooting, Doe said, Valenzuela and Tamara got into her car and left. The others got in the second vehicle and sped away, nearly running over the wounded Claros as he was crawling across the road.
Doe said she approached Claros and asked him for Tamara's last name.
"He repeated it a few times," she said. "He said Nicole."
Later, she and a sheriff's detective found Tamara Nicole Thomson on Facebook, and Doe recognized her as the woman who pulled the gun in the back seat.
Doe also talked about calling 911, and following the dispatcher's instructions as she tried to help Claros. She took off her jacket and placed it under his head. She pulled off his shirt, revealing the dark and bloody bullet wounds. She was about to start CPR when the police arrived.
Claros was pronounced dead at the hospital a couple of hours later.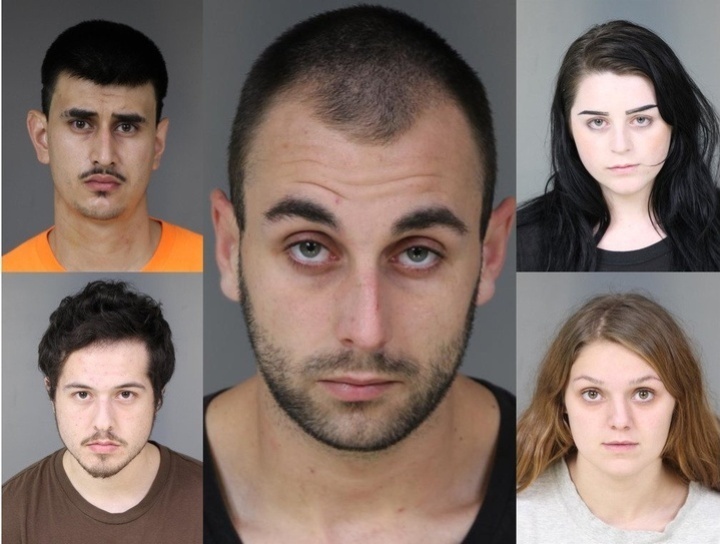 Mitchell and Godoy-Standley were not part of yesterday's testimony. Nor was Fode, except for Doe's description of a "black-haired chick" who she saw talking to Thomson during the carjacking.
Doe was unclear about how many people got out of the car that pulled up behind her. The people who approached on Claros' side of the car were just shadowy figures in the dark.
After their arrest, Thomson and Valenzuela told investigators Claros was suspected of molesting Fode and Mitchell's 3-year-old daughter. Claros' family has said he was investigated, but no charges were filed because of lack of evidence. Thomson admitted she helped set Claros up for "an ass-whipping."
Yesterday Fode's attorney Neal Sanders asked Doe whether Claros had ever told her he was being investigated for child molestation. She said no.
Doe acknowledged she has talked with family and friends about the incident, and she also has read media accounts that contained mugshots of the defendants. Her testimony concluded yesterday, but the preliminary hearing was expected to continue this morning with more witnesses.
Doe requested that she be identified in court by the pseudonym, and attorneys complied when asking her questions. But Doe not only is identified in court records, she has been named in previous media stories.
In addition to Russo and Sanders, defense attorneys are David Nims for Thomson, Russ Clanton for Godoy-Standley and Marek Reavis for Mitchell.
###

PREVIOUSLY: