All five defendants in the killing of Tyson Eduardo Claros will stand trial for murder and carjacking.
Judge Marilyn Miles, after a three-day preliminary hearing, ruled today there was probable cause to hold to answer Brandon James Mitchell, Catherine Lynn Suzanne Fode, Hector Godoy-Standley, Tamara Nicole Thomson and Cesar Octavio Valenzuela. Mitchell also was held to answer for personally firing a gun, and Thomson, Godoy-Standley and Valenzuela for personal use of a firearm. But the personal use charge against Fode was dropped, with Deputy District Attorney Brie Bennett saying there was not enough evidence she was carrying a gun.
Claros, 20, was shot four times during an alleged carjacking on state Highway 255 in the early morning hours of Dec. 12. Fode and Mitchell apparently believed he had gotten away with molesting their 3-year-old daughter.
Mitchell's attorney, Deputy Conflict Counsel Marek Reavis, argued today that it was only finger-pointing co-defendants (Valenzuela and Thomson) who named his client as the shooter. The eyewitness, "Jane Doe," testified it was Valenzuela who shot her friend Claros.
"She has no reason to finger anyone else besides the person she saw," Reavis said.
Thomson's attorney, David Nims, said there was no premeditated plan to kill Claros, just a plan for "some kind of beating." Thomson admitted to investigators that she set Claros up by pretending she needed a ride to McKinleyville. She allegedly pulled out a gun during that ride, and then the other four defendants pulled up behind them. Thomson said she believed there was going to be a "one-on-one" fight between Mitchell and Claros and was shocked when Claros was shot.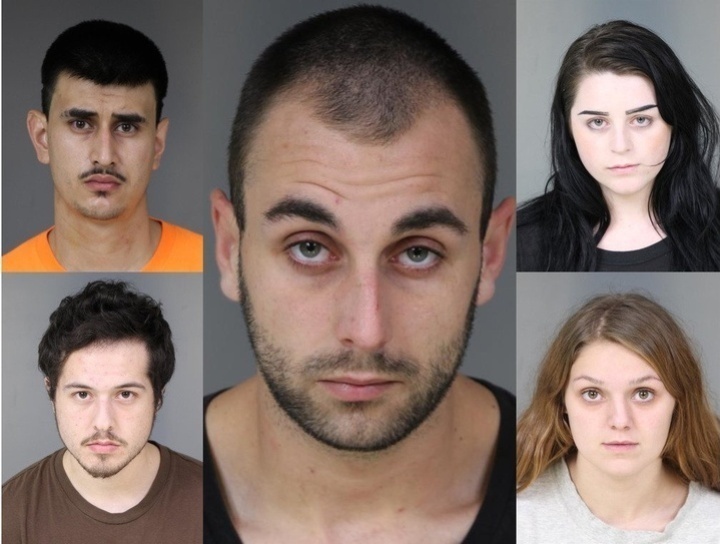 Both Deputy Public Defender Casey Russo, representing Valenzuela, and Russ Clanton, representing Godoy-Standley, referred to their clients as "the odd man out." Valenzuela, Thomson's boyfriend, was only there because she was, Russo said, and had no motive to hurt Claros. According to testimony Valenzuela barely knew the other three defendants. But it was allegedly him who ordered "Jane Doe" out of her car while pointing a gun in her face.
Clanton said there was no credible evidence that Godoy-Standley "played any role in any of this." Godoy-Standley, Fode's boyfriend, was rarely mentioned during testimony, other than to say he was there during the incident. But Bennett noted the evidence indicates he was packing a gun.
Bennett told the judge she believes eyewitness Jane Doe was mistaken when she identified Valenzuela as the shooter. Not only did Valenzuela and Thomson name Mitchell, he made self-incriminating statements during recorded jail visits.
During one visit, he said he was "hoping for an all-male jury with 3-year-old daughters," apparently so jurors would understand why he felt he had to punish the person who molested his daughter.
"Every man says they would," he told his visitor, "but few have done it."
He also complained about the bad publicity he was getting, when "the suspect in raping a child, where's the publicity?"
In fact there is no evidence the little girl was raped, but a possible molestation was under investigation. On Sept. 24, Fode took the child to Mad River Hospital, where she was examined after saying "Uncle Tyson" had put his fingers in her vagina. The doctor contacted the Humboldt County Sheriff's Department.
Sheriff's Deputy Spellman Stallworth, called as a witness by Fode's attorney Neal Sanders, testified today that the doctor told him the child's vaginal area looked red and irritated. She recommended that the little girl be given a forensic exam.

Because the alleged molestation took place in Eureka city limits, Stallworth sent the information to the Eureka Police Department.

Today EPD Detective Amber Cosetti testified that the child was interviewed twice by a special panel that investigates child abuse. Cosetti was there for the second interview, and said the little girl reported no abuse or molestation.

Cosetti told Fode and Godoy-Standley she needed to do some follow-up work, including talking to Claros. She was busy working other cases, and three weeks went by before she attempted to reach him. When she tried, his phone number was no longer valid. On Nov. 30 she left a phone message for Fode and Godoy-Standley, asking if they had current contact information for Claros.

The detective never heard back, and less than two weeks later Claros was shot dead.

Sheriff's investigator Jennifer Turner attended the autopsy on Dec. 14, two days after the killing. She testified today that Claros was shot four times, with two of the bullets passing through his body. One of those was a bullet to the chest. He also was shot twice in the thigh and once in his lower stomach.

The five defendants are scheduled for arraignment April 5 before Judge Christopher Wilson.
###
PREVIOUSLY: