After hearing the prosecutor's forceful argument for a verdict of first-degree murder, jurors began deliberating this afternoon on the guilt or innocence of a Bridgeville man accused of killing his wife's lover.

Deputy District Attorney Luke Bernthal ridiculed Jon David Goldberg's claim that he fired the first shot by accident, then closed his eyes and fired four more times, managing to hit Smith each time in his lower right side. Three of the eyes-closed shots were fatal.
But Goldberg has changed his story over time, Bernthal said. He told a defense psychologist the first shot was accidental, and he "didn't know why" he kept shooting. Now he's concocted a tale, the prosecutor said, that Smith grabbed his wrist and he continued to shoot because he feared for his life.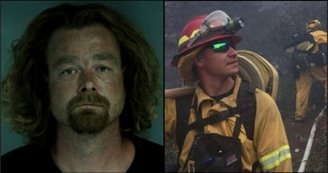 Goldberg claims Smith was reaching for a gun in his truck, so he pulled his revolver from its holster to defend himself. Bernthal said it's irrelevant whether there was a gun in Smith's truck. It's undisputed he had no weapon in his hand when Goldberg killed him.
"The best evidence that there was no gun," Bernthal said, "is that the defendant is sitting here and Mr. Smith is not sitting here. He made the decision not to use a gun, and the defendant shot him dead. You can't go to someone's house with a loaded gun and then claim self-defense."
The only person entitled to act in self-defense that day, Bernthal said, was Tim Smith.
"When someone who hates you approaches you with a loaded gun and says 'I thought you were my friend, man,' you have a right to self-defense."
According to the defense theory, Bernthal said, Smith abandoned his plan to grab a gun and instead tried to take Goldberg on with his bare hands as Goldberg pointed a gun at him.
After the shooting Goldberg drove to his friend Steve Shapiro's house and said "I just murdered someone and I need some help," Bernthal said. "He didn't say anything about self-defense, as you would to your best friend."
As Shapiro was driving Goldberg home, Goldberg called his mother to say he'd just shot someone. Again, he said nothing about self-defense.
Deputy Public Defender Casey Russo, arguing for an acquittal, spoke repeatedly about Goldberg's confused, "scrambled" state of mind on Sept. 26, 2016. He had just found out his wife, Rachel Goldberg, was having an affair with Smith.
But Bernthal argued that, to the contrary, Goldberg made a completely rational decision: He decided to go kill someone he hated. Bernthal reminded the jury of the testimony of Chad Holub, Goldberg's neighbor. Holub said Goldberg was agitated and distraught. Then he made the statement about killing Smith and calmed down.
"That pretty much sums up the whole thing," Bernthal said.
The prosecutor argued the killing was clearly premeditated. About an hour before Goldberg shot Smith, he told Holub he was going to kill Smith. He did, then told Shapiro he'd just murdered someone. At some point before the shooting, Goldberg slowly drove by the Smith home on Rohnerville Road. Smith's red truck was parked in front of his house.
Bernthal described Goldberg as a college dropout who used an inheritance to buy a marijuana farm near Bridgeville. He failed at marijuana farming. His only accomplishment in life was his family: wife Rachel and young son David.
Then, Goldberg learned his wife was having an affair. Bernthal described the Goldbergs' relationship as "poisoned."
"It was really inevitable," Bernthal said. "If it wasn't Tim Smith it was going to be something else. That marriage was done."
Bernthal said that for the jury to find Goldberg was provoked into killing Smith, "the provocation has to come from Tim Smith. Not from Rachel Goldberg, not from past failures."
Bernthal pointed out several inconsistencies between Goldberg's testimony and what other people said.
For example, Goldberg claims Tim Smith told him the night of Sept. 25 that he planned to go hunting the next day. Therefore, Goldberg wasn't expecting him to be home when he showed up to talk to Smith's wife Jessica Springer about the affair.
But Goldberg was the only person who thought Smith was planning a hunt that day.
Rachel Goldberg testified she believed Smith was leaving Oct. 1. And Jessica Springer told police her husband was scheduled to leave on Thursday, three days after he was killed.
Goldberg testified he kept firing at Smith "until he let go of my wrist." In other words, Smith didn't let go until after he was shot point-blank in the chest, then four more times in his side.
Bernthal said evidence shows Goldberg was firing after Smith hit the ground.
The jury was given the case about 3:30 p.m. today, and jurors usually leave by 4:30. They would have had time to choose a foreperson, then possibly begin some preliminary discussion.
Jurors usually arrive in the morning at 9:15, which will probably be the case tomorrow.
###
PREVIOUSLY: