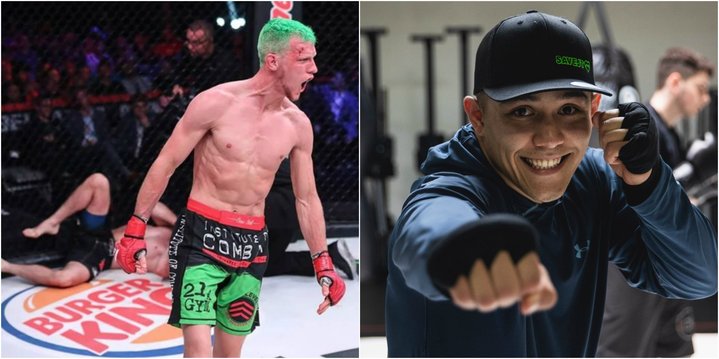 Arcata's Institute of Combat gym is now home to two professional mixed martial artists.

Undefeated MMA pro Cass Bell and his trainer John "Juan" Thompson have helped another local fighter make it to the big leagues.
On Sept. 7, Eureka High School grad Tyson Siphavong-Miller will compete in his first professional MMA fight at Bellator 226 in San Jose. The 21-year-old earned the opportunity after impressing Bellator scouts at an amateur fight in February.
"Cass told those guys about me and that he thinks I'll be a champ one day," Siphavong-Miller said.
Siphavong-Miller didn't disappoint, making quick work of his larger opponent by placing him in a finishing chokehold a minute into the match.
The victory that earned Tyson Siphavong-Miller a shot at the pros.
"He was a lot bigger than me and [the scouts] really enjoyed the way I handled myself," he said. "I just smiled and had fun with it. He came out guns blazing, swinging super hard. I choked him out and then [our team] went and ate some good food."
The Bellator fight offer was a long time coming for the 5-foot-10-inch, 185-pound fighter, who started training at 15 after a concerned family member put him in touch with trainer John Thompson.
"I was a little kid; they just wanted to keep me out of trouble," Siphavong-Miller said. "I went to Eureka High, so I was getting into trouble and doing stuff I wasn't supposed to do. John called me one day and asked if I wanted to be an athlete and I told him that's all I ever wanted."
Shortly after their conversation, Siphavong-Miller said Thompson put him through the hardest workouts of his life, helping him become a star athlete for Eureka High's baseball, football and wrestling teams.
Bell, who also began his fighting career as a local high school wrestler, will also on the undercard of Bellator 226, where the 32-year-old will try to improve his record to 4-0.
"Three fights in, my head is clearer," Bell told the Outpost. "I've fought at this level before, so I'll be less focused on my nerves and more focused on my performance and being the best fighter I can be."
Siphavong-Miller, meanwhile, said he's accepted the inevitability of pre-fight jitters.
"Every time. That's the best part," he said. "It's the craziest experience because you're doing something that scares you. There's a grown man trying to hurt you. But you look in the mirror ask yourself who you are and go out there, pony up and have fun."
Bell's latest victory.
###
PREVIOUSLY: