Zachary Cordell Harrison was sentenced this morning to 50 years to life in state prison for the September 2017 murder of 58-year-old Alderpoint resident Robert James Holtsclaw.
Judge Kaleb Cockrum sentenced Harrison to 25 years to life for first-degree murder and 25 years to life for personal use of a firearm. He must serve 50 years before he is eligible for parole, meaning he will be 79 years old.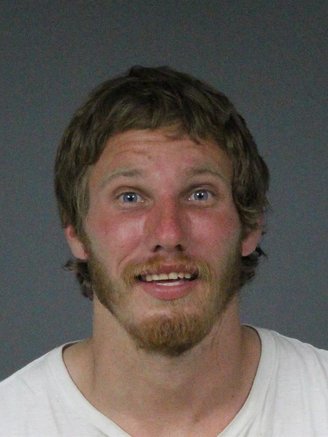 Deputy Public Defender Luke Brownfield had filed a motion asking Cockrum to dismiss the firearms enhancement, which judges have the discretion to do. Cockrum denied the motion.
The judge said Harrison's upbringing was a factor he considered, "but I don't think that overcomes the value of Mr. Holtsclaw's life."
Harrison shot Holtsclaw with a rifle as the older man sat in his pickup truck in Alderpoint. No motive is known, and it's been speculated Harrison was intending to shoot his good friend Tory Hennings, who was next to Holtsclaw in the truck. Instead Hennings became the prosecution's sole eyewitness.
Holtsclaw's sister and daughter both spoke at the sentencing, describing the grief and pain they've experienced over the past two years.
And Deputy District Attorney Adrian Kamada, the trial prosecutor, said Harrison has expressed zero remorse, insisting to a probation officer that someone else shot Holtsclaw but he would rather spend life in prison than divulge who that person was.
Patricia Holtsclaw, the victim's sister, was in court when a jury convicted Harrison of first-degree murder. Afterward she watched as law enforcement officers escorted him away.
"He was walking down the hallway and he turned around and smiled at me," the sister said. "He ended James's life, he hurt our family and he doesn't care. He just smiles."
Harrison wasn't smiling during the sentencing today. His right arm and wrist were wrapped in bandages, and the judge said he was informed over the weekend that Harrison had been in a fight in the jail.
After the killing, Harrison managed to elude law enforcement for nearly nine months.
"He ran and he hid and he made a game of James's death," Patricia Holtsclaw said. "I don't care about his soul; I care about his mortality. I want him to spend the rest of his life in prison." Amandalyn Lopez, Holtclaw's daughter, said she grew up as "Daddy's girl" and her father "was everything to me."
"What I wouldn't give," she said, "to have one more hug."
"To this day the grief still comes and goes. I cry when I'm in the shower at night because I know no-one can hear me."
The murder also devastated her two young daughters, Lopez said.
"My oldest couldn't leave my side for over a year. At 5 years old her innocence was stolen. … This isn't the childhood I had planned for them."
The judge noted that Holtsclaw, shot from a distance with a high-powered rifle, had no way to defend himself.
"But for the use of a rifle," Cockrum said, "it would have been very hard to carry out a murder in this case."
Cockrum also pointed out Harrison's use of a brass bullet, that "blossomed out like a flower" when it struck its target.
Harrison was given credit for 512 days in custody.
###
PREVIOUSLY: