Only Zach Harrison knows who he was aiming at — and why — when he shot Robert "Bob" Holtsclaw to death on Sept. 23, 2017.
On Wednesday a jury convicted the 29-year-old Harrison of first-degree murder and the special allegation of personally discharging a firearm, meaning he could receive two life terms in state prison. Sentencing is scheduled for Oct. 30.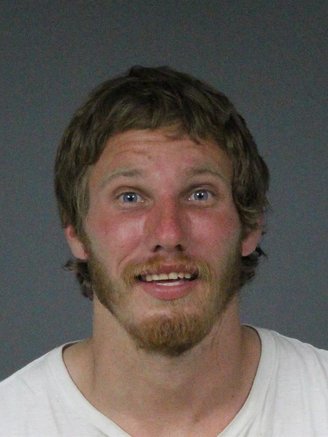 Harrison, who sat stone-faced and mostly silent during his week-long trial, remained expressionless when the verdicts were read about 4 p.m. The former escape artist glanced back once, briefly, at one of many bailiffs who were waiting to handcuff him and escort him back to jail.
Because of the county-wide power outage, the jury and all court personnel were gathered in the jury assembly room when the verdict was read. The room was nearly dark, and attorneys and Harrison sat at folding tables just a few feet away from the audience.
Many courtroom observers thought the jury would quickly convict. But jurors deliberated all day Tuesday and most of Wednesday before reaching a unanimous decision. After Judge Kaleb Cockrum discharged them, telling them attorneys "would love to talk to you," they fled.
Two women related to Holtsclaw were present when the verdict was handed down, and both burst into tears. Asked whether they wanted to comment, one said "Probably not."
Harrison is now a convicted murderer, but it's unclear whether he shot Holtsclaw by mistake when he meant to kill Tory Hennings, his friend since childhood. Hennings testified he "hid behind Bob" when he saw Harrison aiming a rifle at him from across Sixth Street in Alderpoint.
Hennings survived to become the only eyewitness against Harrison.
The trial prosecutor, Deputy District Attorney Adrian Kamada, said he can't say for certain what Harrison's plan was.
"Mr. Harrison's subjective intent can only be shown by the objective evidence and his statements to detectives," Kamada said in an e-mail. Harrison, under interrogation after his arrest in June 2018, "gave statements that could reasonably be inferred as a reason for wanting to kill either Mr. Holtsclaw or Mr. Hennings or both," Kamada said.
Hennings testified during the trial that when he saw Harrison aiming a gun at him he hid behind Holtsclaw in the cab of Holtsclaw's pickup truck. Holtsclaw was then killed by a 30-30 rifle bullet that entered and passed through his arm, then entered his chest.
"Mr. Tory Hennings appeared distraught while testifying," Kamada said, "as it looked like he was essentially reliving a scenario where his friend of 20 years fired a shot in his direction and killed his other friend. And he did not know why."
Kamada thanked jurors for their dedication to "this often difficult but incredibly important civic duty, including deliberating without electricity on the final day. In doing so the the jurors delivered a measure of justice to the victim's family … and to the community of Alderpoint."
Jurors also had the option of convicting Harrison of second-degree murder but decided he'd committed murder in the first degree. They were told they could find first-degree murder under two theories: the killing was willful, deliberate and premeditated or it was committed while Harrison was lying in wait.
Kamada said both theories applied. Harrison had time to reflect before he fired, "and additionally he did so in an ambush-style attack."
When finally captured after eight-plus months on the run, Harrison repeatedly denied he was the killer. But he also said Holtsclaw had once raped him, and two or three months before the murder had aimed a gun at him and threatened him.
When told Hennings had identified him as the shooter, Harrison said Hennings had reason to set him up. With Harrison in jail, all the profit from their marijuana grow would go to him. And, Harrison claimed, Hennings had sex with his girlfriend and may have feared Harrison would eventually confront him.
During his time as a fugitive, Harrison became known for his daring escapes. Once, surrounded by law enforcement officers, he acted as though he was going to follow commands to "get down." Instead he ran into the woods.
The next day, spotted again, Harrison stripped naked and swam across the swift Eel River. Jet skis were deployed, but he managed to get away again.
He also had a collection of license plates from other states. Harrison started out with Oregon plates on his black Ford F-350, but then switched to California. He once showed up in Southern Humboldt in a Honda Accord with Nevada plates, but he also had one from Texas onhand.
Harrison's attorney, Deputy Public Defender Brie Bennett, could not be reached for comment on the verdict. The Harrison trial was Bennett's last in Humboldt County, as she is joining a private law firm in Southern California. She will be missed.
###
PREVIOUSLY: