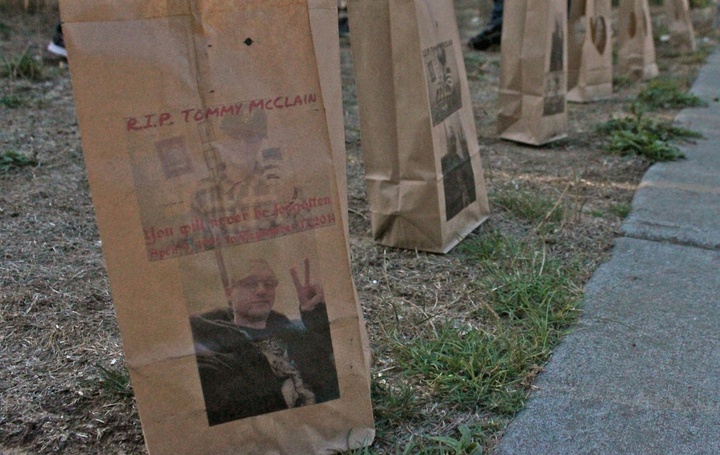 ###
Was 22-year-old Tommy McClain just trying to obey the three Eureka police officers screaming orders at him, or was he going for the gun sticking out of his pants?

"I shot him when he reached for the gun with both hands," the officer being sued by McClain's parents testified today in federal court.

Officer Stephen Linfoot and the city of Eureka are defendants in the lawsuit alleging excessive use of force and negligence in the deadly incident on Allard Avenue in September 2014. McClain was shot in the forehead, the buttocks and the upper right arm. That bullet exited his inner arm and penetrated his chest. As it turned out, the weapon in his waistband was an unloaded pellet gun.
Plaintiff's attorney Dale Galipo told jurors they should question whether Linfoot should have shot at all, and also whether he fired too many shots. Linfoot "was firing as (McClain) was going to the ground and when he was on the ground," Galipo said during his opening statement. He also suggested police could have used less than deadly force: a taser, pepper spray, a baton.
But Eureka attorney Nancy Delaney said Linfoot fired to save his own life and the lives of his fellow officers. She said they had every reason to believe McClain was carrying a semiautomatic pistol, and that he was reaching for it when Linfoot opened fire.
"The overwhelming evidence in this case will be that this incident occurred not because of any choice that Officer Linfoot had, but because Mr. McClain appeared to reach for a semiautomatic pistol," Delaney said during her opening statement.
Plaintiff's attorney Galipo said McClain was living with his cousin in the Allard Avenue duplex, and had been working as a roofer.
"He was what you'd call a good kid," Galipo said. "Compassionate, friendly, good-hearted."
On Sept. 17, 2014, McClain had been out with his cousin, celebrating the cousin's birthday. Two women were with them. When they arrived home shortly before midnight, they were apparently under the influence of alcohol. And the police were waiting. But not for them.
Eureka police were staked out there, hoping to arrest a fugitive named Duncan Devine. They suspected that Devine and his girlfriend were hiding out in the duplex adjoined to McClain's. But what unfolded then had nothing to do with Duncan Devine, and everything to do with where Tommy McClain had his hands when he was shot dead.
According to testimony and attorney statements presented today, police watched as the four partiers got out of their car and went inside. Then Tommy McClain walked back outside to have a cigarette, and he saw a car drive up and park across the street.
Apparently there had been break-ins and other trouble in the neighborhood and McClain was on the alert.
Remember, the hidden Eureka police officers are watching all of this.
"Mr. McClain walks down and appears to confront (the car's driver)," Delaney told jurors. The two men had an unfriendly conversation. and then the car's driver got out of the car and walked away. At that point, Delaney said, McClain appeared to transform from jovial partier to "puffing up as though he was in fight mode."
Officers, by observing McClain, apparently had good cause to believe he was going to vandalize the man's vehicle. So they asked Officer Linfoot to cruise by in his marked car. They hoped that would distract McClain.
As Linfoot drove by, another officer saw McClain "glare in Linfoot's direction and rack the slide on the gun," Delaney said.
At this point, Sgt. Brian Stevens pulled his own gun and began yelling commands to McClain. He reportedly responded with statements such as "I know my Constitutional rights" and "You can't search me."
Linfoot, hearing the commotion, pulled up and got out of his car. What happened next will be up for the eight jurors to sort out.
Undisputed: McClain was told to raise his hands and he did. He was told to start walking toward the street ("Get down here!") and he started walking. He started to lower his hands and was told to raise them again; he did. Repeat that sequence. Then, on the third time he lowered his hands, he was shot dead.
Linfoot testified that McClain was reaching for the gun with both hands. The plaintiffs say officers were screaming conflicting commands. For example, jurors must decide whether McClain heard "Get down here!" or "Get down!" If he thought he was being told to get down on the ground, wouldn't that require putting his hands down?
Testimony will continue Tuesday at the federal courthouse in McKinleyville, with federal Judge William Orrick presiding. Officer Linfoot will continue being questioned by Galipo and then by Delaney.