New state law may be pushing a plea bargain for Cesar Octavio Valenzuela-Campos, one of five defendants in a December 2016 murder and carjacking near Manila.
This morning Deputy Public Defender Casey Russo told Judge Christopher Wilson he and Deputy District Attorney Carolyn Schaffer are "in negotiations."
"We're hoping we'll come to a resolution here," Russo said.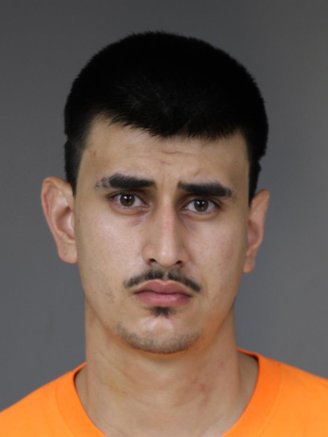 Valenzuela-Campos, 25, had been scheduled for jury trial beginning Nov. 5. Now he is set to be back in court Nov. 14 for a status hearing.
Outside the courtroom, Schaffer said she is looking into the implications of a new state law restricting how defendants can be charged under the so-called felony murder rule.
The new legislation, signed last month by Gov. Jerry Brown, limits who can be prosecuted for felony murder to those who commit or intend to commit a killing. Previously defendants could be convicted of first-degree murder if a victim died during the commission of a felony, even if the defendant did not intend to kill or did not know a homicide took place.
The murder of 20-year-old McKinleyville resident Tyson Eduardo Claros is a prime local example. Claros allegedly was shot dead by Brandon James Mitchell, but Valenzuela-Campos and three other suspects were also charged with murder for their involvement in the carjacking that led to Claros' death.
According to previous court testimony, Valenzuela-Campos approached the car Claros was riding in, carrying a handgun and ordering the driver to "Get the fuck out of the car."
The woman complied, and Mitchell then reportedly shot Claros multiple times and left him to die on State Highway 255. Mitchell, Catherine Suzanne Lynn Fode and Fode's boyfriend Hector Godoy-Standley then left the scene in Godoy-Standley's car, with Valenzuela-Campos and his girlfriend Tamara Nicole Thomson speeding off in the vehicle Claros had been riding in.
Valenzuela-Campos and Thomson were arrested the following day after Claros' friend, the eyewitness, was able to identify Thomson on Facebook. Thomson and Valenzuela-Campos both gave statements to sheriff's investigators, implicating the other three suspects.
Thomson insisted she knew of no plan to kill Claros, though she believed he was going to "get a whippin" because it was believed he had molested Fode and Mitchell's 3-year-old daughter. That allegation had been previously investigated but Claros was never charged.
About a year after the five were arrested, Fode agreed to testify against the other defendants in exchange for being allowed to plead guilty to voluntary manslaughter. Mitchell and Thomson are scheduled for trial in March. Godoy-Standley's case is in limbo until Judge Dale Reinholtsen issues a ruling on whether he is mentally competent to stand trial.
In a recent e-mail responding to the Outpost's questions about the new law, District Attorney Maggie Fleming said it would definitely have an impact on the Manila case. Fleming also said she disagrees with the new restrictions on how such cases can be charged.
"I believe that the felony murder rule served justice and public safety," said. "People who commit inherently dangerous felonies that result in murder should be held responsible. SB 1437 (the new legislation) releases those people from responsibility for the murder. I don't think the bill promotes justice or reflects the public's view on the felony murder rule."
The five defendants have now been in Humboldt County Correctional Facility for nearly two years. The exception is Godoy-Standley, who spent several months as a patient at Napa State Hospital before being returned to Humboldt.
At the time of the murder Mitchell was 22, Godoy-Standley was 21 and Fode and Thomson were 18.
###
PREVIOUSLY: