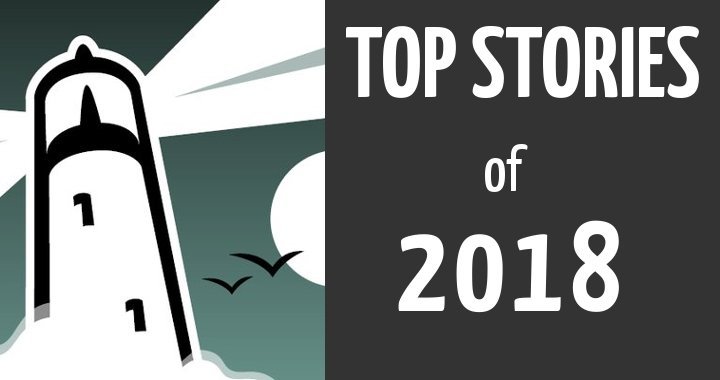 It is time once again to look back on this year's top stories in Humboldt County, as gauged by The Only Metric That Matters™ — traffic to various pages on the Lost Coast Outpost!
As per usual, the great majority of the most highly trafficked Outpost stories this year don't require much more than a functioning limbic system to process. Man stab man, man crash car, cop bust bad man — these stories, with simple variations, are the reliable news winners in this day and age, and maybe all the way back to the beginning of time. They don't demand … uh … let us call it abstract thinking. Often the picture and the headline tell you all you need to know, and you can probably even skip the headline at a pinch. It's worth remembering that a very large number of our fellow citizens live mostly on this level, where anger, fear and schadenfreude are the principal or only motive agents.
And yet still. The Outpost is honored to be the place the county turns to for information in times of emergency, when people are wondering what the hell just happened, and we're very happy that we've struck what we believe to be a nice balance between giving the customers what they want (see below) and giving them what they need — excellent courts coverage; an in-depth series on issues at play in the Eureka election; Ryan Burns' investigative work on the North Coast Co-op, a planning commissioner's environmental violations, Mercer-Fraser and its various projects, and the east-west train scheme; and much else.
Sometimes — rarely enough — the streams cross. We were pleased to see that Stephanie McGeary's great story about a battle over a piece of public art in Eureka made the top three, thanks in part to some wider internet virality. We were really stoked about last month's election night liveblog, and so, it appears, were you.
And as the nominal boss of this place, I was happy to see that we were able, in a roundabout way, to recoup some small portion of the time we donated to the producers of the melodramatic docuseries Murder Mountain, whose goofy trailer gave us our top post of the year by far.
Onward to 2019! Below: The top 25 posts of year.
###
25. Vegetation Fire Burning Along Highway 299 Near Blue Lake
24. Eureka In-N-Out Location in the Works; The Longtime Fast Food Rumor is One Step Closer to Reality
23. Jesse Crumb, Eureka Resident and Son of Famed Cartoonist Robert Crumb, Dies After New Year's Eve Car Crash in SoHum

22. (VIDEO) Woman Reportedly Hospitalized With Minor Shark Bite Injury as Numerous Salmon Sharks Wash Ashore at Trinidad State Beach
21. Man Stabbed to Death in Downtown Arcata This Morning; Suspect Still at Large
20. Highway 101 Closed: Big Rig Reportedly Explodes Into Flames After Head-on-Collision on Klamath Bridge
19. (VIDEO) Shark Mauls Seal on Humboldt Bay; Diver Describes Close Encounter
18. (VIDEO) Semi Truck Drives Through Demonstration at Scotia Lumber Mill, Narrowly Missing Protesters and Dragging Banner Onto the Freeway
17. HOMICIDE: Boy Stabbed to Death at Ocean View Cemetery Last Night; One Adult Woman, One Kid Arrested, Police Say
16. FATAL COLLISION ON 101: Vehicle 'Torn in Half' by Injury Traffic Collision at Highway 101-Route 1 Interchange Near Leggett
15. Marci Kitchen Pleads Guilty
14. APD: 12 Arrested During Months-Long Investigation Into Drug Sales at Sidelines, Toby and Jacks
13. SWAT Team Finds 13 People Tied Up at Marijuana Grow on Dyerville Loop Road; Masked, Heavily-Armed Suspects Reportedly Still at Large
12. Woman Shot Dead on H Street This Afternoon; Suspect Deceased
11. Cops Raid Notorious Ranch in the Arcata Bottoms; Rancher Ray Christie Arrested at the Scene
10. Elon Musk's Team Stopped at Humboldt County Airport to Collect Rescue Pods From Local Inflatables Company On Their Way to Thailand Cave Rescue
9. Recent Arcata High Graduate Dies After Falling from 10th Story of Minneapolis Apartment Building During Halloween Party
8. More Than 250 Dead Cows Found on Ray Christie's Properties, Says HCSO; Numerous Other Alleged Violations Discovered
7. 16,000 Pounds of Marijuana Seized, Over 30 People Detained at Grow Site East of Honeydew
6. Humboldt County Election Night — Live!
5. (VIDEO) Violent Arrest in Downtown Arcata Saturday Evening Goes Viral; Confrontation Between UPD Officer and Vehicle Passenger Results in Battery, Resisting Arrest Charges
4. Arcata Business Owner Arrested in 'One of the Largest Cocaine Seizures in Recent County History'
3. Outraged Eureka Business Owner Convinces City to Cover Cat Painting Right Meow!
2. Fatal Traffic Collision on Highway 101 in SoHum
1. WATCH: The Trailer for 'Murder Mountain: Welcome to Humboldt County,' the New Docuseries on Fusion TV That Premieres Sunday, Has Been Released