Wednesday, April 2, 2014's Chowdown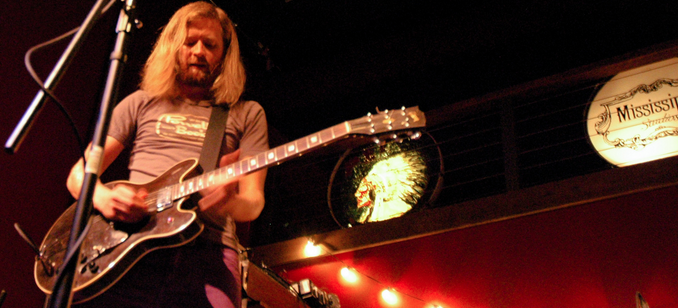 Before you head out on your epic Fishbone/Hayfork road trip this Friday, perhaps consider a sweaty rock show warm up in the form of the Scott Pemberton Trio, who will fill hallowed HumBrews with dirty, dirty guitar freakouts Wednesday night. The guitarist and Portland native's sound has been described as "Ween meets Hendrix." Taste Pemberton's brand of excess in the extended, uh, "cover" of The Beatles' "Dear Prudence" below with guest vocals by fellow PDXers Shook Twins.
Also, it's never too early to be planning your weekend fun (and beyond). In that spirit we're directing you to the Lowdown Lookahead, a master list of all the Lowdown "red lined" events into the foreseeable future. Get on that and/or look for more Wednesday night distractions in your Lowdown below.
-Andrew Goff
Events
Restaurants
Eureka
Arcata
McKinleyville
Trinidad
Blue Lake
---
Movie Showtimes
Broadway Cinema
300: RISE OF AN EMPIRE 2D: 1:15, 6:45, 8:50
300: RISE OF AN EMPIRE 3D: 3:15
3 DAYS TO KILL: 6:50, 9:30
DIVERGENT: 11:45, 1:25, 2:50, 4:40, 6:00, 7:55, 9:10
MONUMENTS MEN: 11:55, 5:40
MR PEABODY AND SHERMAN 2D: 12:00, 2:30, 4:55, 7:25
MUPPETS MOST WANTED: 11:50, 1:20, 2:35, 4:05, 5:25, 8:10
NEED FOR SPEED 2D: 3:50, 9:20
NEED FOR SPEED 3D: 12:20, 5:50
NOAH: 11:35, 1:10, 2:40, 4:30, 5:45, 7:45, 8:55
NON-STOP: 12:45, 3:25, 6:05, 8:45
SABOTAGE: 1:00, 3:40, 6:20, 9:00
WIND RISES: 2:45, 8:35
Mill Creek Cinema
300: RISE OF AN EMPIRE 2D: 6:55, 9:30
DIVERGENT: 2:50, 6:00, 9:10
LEGO MOVIE 2D: 5:10
MR PEABODY AND SHERMAN 2D: 3:10, 5:30, 7:55
MUPPETS MOST WANTED: 3:00, 5:40, 8:20
NEED FOR SPEED 2D: 3:35, 6:25, 9:15
NOAH: 2:40, 3:50, 5:50, 7:50, 9:00
SABOTAGE: 4:05, 6:45, 9:25
Minor Theatre
DIVERGENT: 5:40, 8:50
GRAND BUDAPEST HOTEL: 4:10, 6:40, 9:10
NOAH: 5:25, 8:30